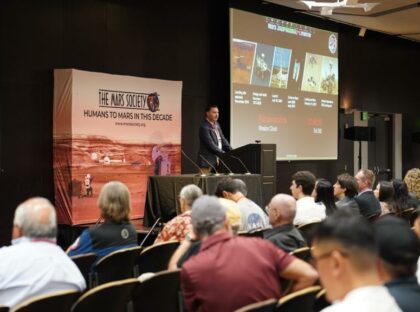 This past week, the Mars Society convened its annual international convention for the 25th year in a row, and the first time in-person since prior to the Covid-19 pandemic. The theme of this year's event was "Searching for Life with Heavy Lift", which was meant to encourage out-of-the-box thinking of presenters and attendees to develop new systems that take advantage of the increased payload capacity that is coming with NASA's SLS and SpaceX's Starship.
We worked with the excellent team at Arizona State University's School of Earth and Space Exploration (also known as the ASU NewSpace department) to plan and organize the conference, as well as a large group of dedicated volunteers to execute the four-day event. The volunteers and attendees included students from ASU's NewSpace department and ASU's Thunderbird School of Global Management.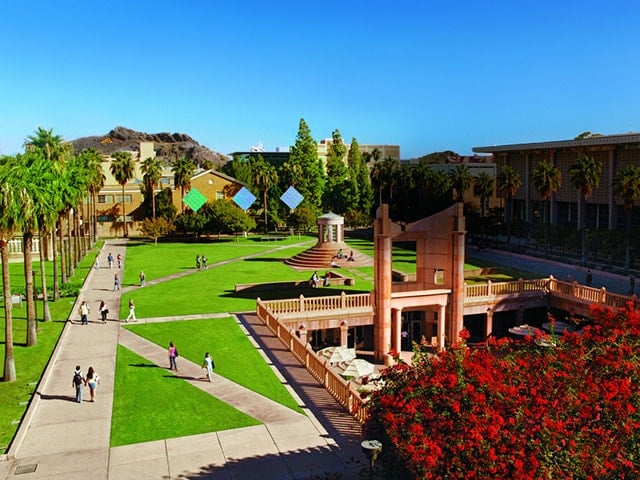 The convention drew approximately 400 people on campus and another 3000 attending virtually, including Mars Society members and partners from all over the world. We had attendees from the United Arab Emirates, Mongolia, and Ghana to name a few. The conference was featured at the top of the popular news website Space.com for all four days. We also had over 12,500 viewers online via our YouTube channel in the first week after the conference started, and our live streams were carried in other places across the Internet.
This also marked the first time we ran a hybrid conference with virtual speakers and attendees in addition to the in-person speakers and attendees at ASU. We were able to blend everything together seamlessly using new software from Zoom and an excellent staff of technical volunteers.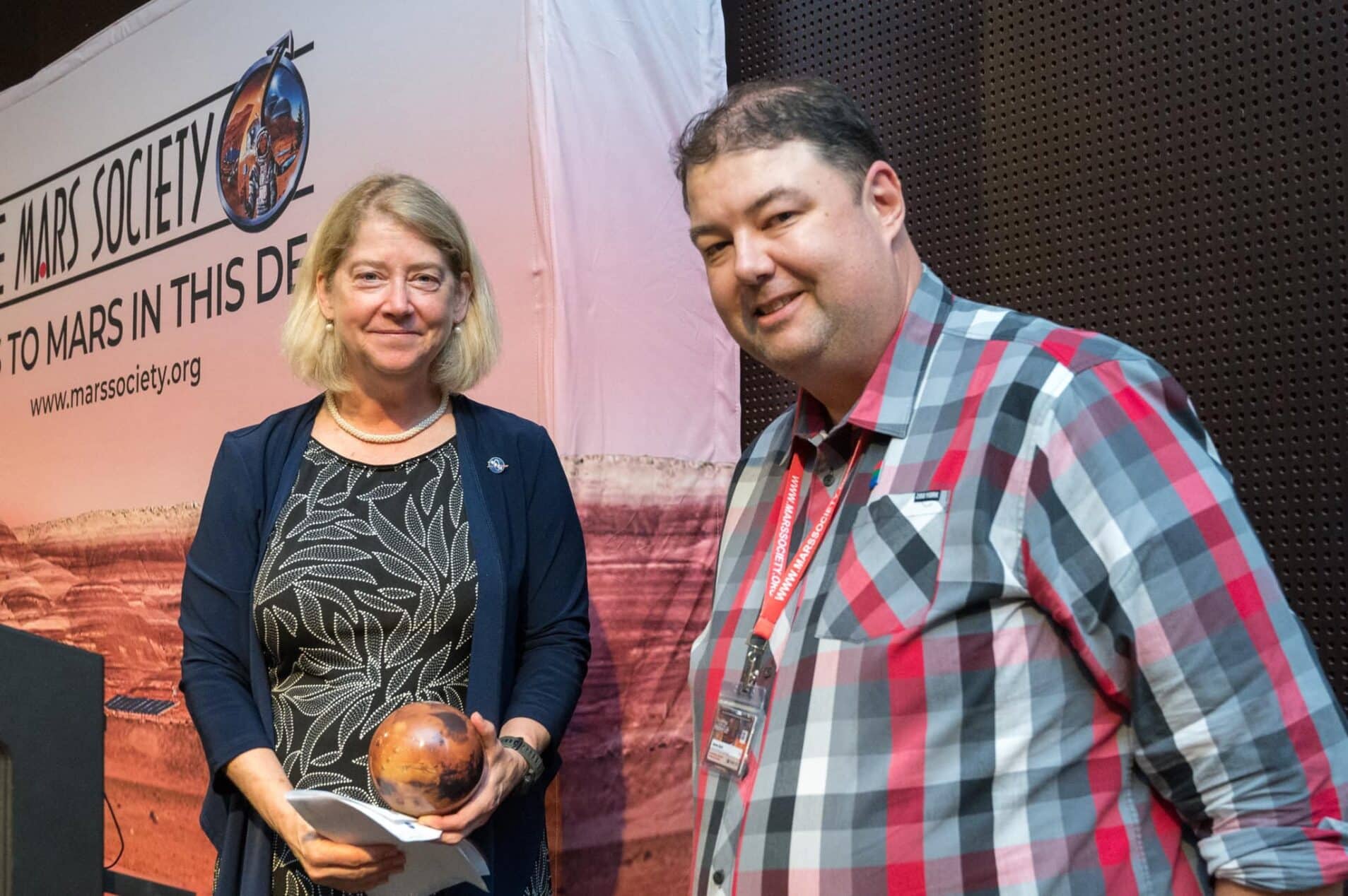 Among the approximately 150 speakers at the event were NASA Deputy Administrator Pamela Melroy, who provided remarks on "The Human-Machine Teaming Path" to get humans to Mars. After her comments, Melroy was presented with a MOVA Mars globe by Mars Society Executive Director James Burk, who noted the gift as a symbol of cooperation between the Society and NASA in the shared goal of humans to Mars.
Competitions
The conference featured a panel discussion and final presentations by four of the five teams that participated in the Mars Society's International Mission to Mars: Engineering Design Course & Competition that was held in July/August. The competition featured 40 international students that competed to design a human Mars mission. During the panel, one student was asked if participating in the program made her more or less likely to pursue a STEM career and she answered with an emphatic "More likely!"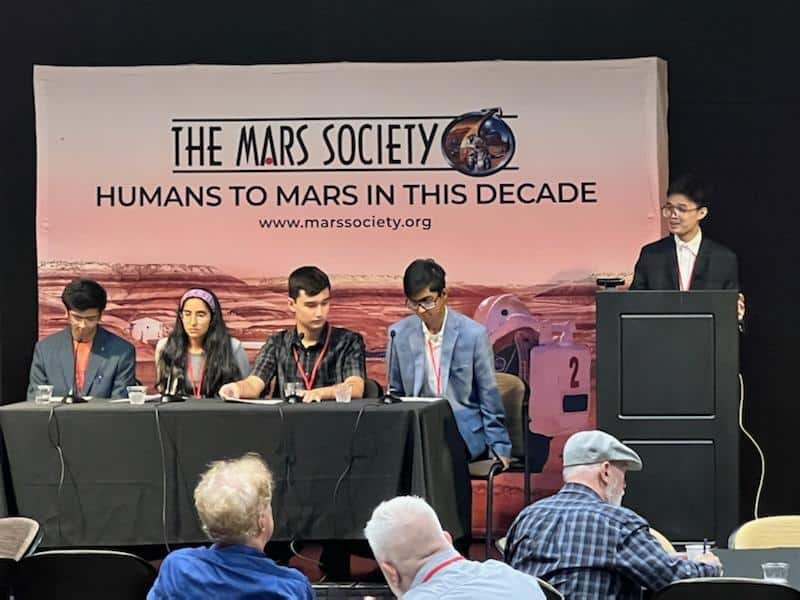 The conference also included the finals of our Telerobotic Mars Expedition Design Competition (TMEDC), which involved six finalists who had each designed a robotic flotilla to explore Mars and search for past evidence of life using a heavy lift rocket, similar to the theme of the convention. The contest was won by Robert Mills, who will receive a $10,000 cash prize, with four other finalists receiving cash prizes.
Other Highlights
Given the proximity of ASU to the legendary Biosphere 2 facility, located a short two-hour drive south from Phoenix, the Mars Society organized a visit to Biosphere 2 and received a special tour from the site's Director John Adams, and Kai Staats, the Director of SAM and SIMOC at Biosphere 2. Dr. Staats and his team are in the process of building the SAM and a full-scale Mars yard that can be used for analog research activities as well as other purposes such as rover competitions.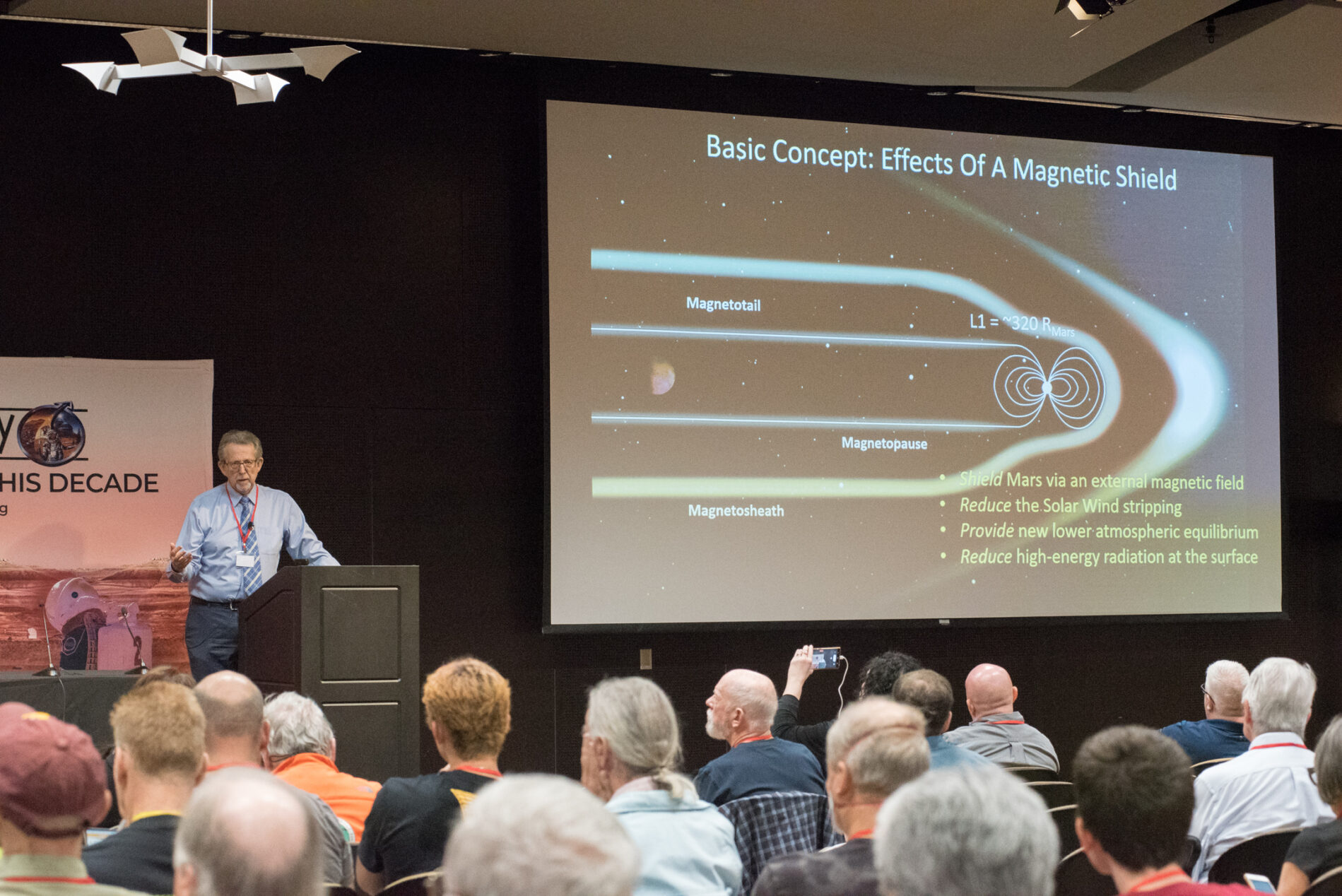 Also at the conference, Dr. Jim Bell, ASU researcher, provided an update on NASA's Perseverance and Curiosity rover missions, Dr. Marcia Reinke, Univ. of Arizona scientist, talked about the James Webb Space Telescope and its spectacular astronomy photos, and Dr. James Green, former NASA Chief Scientist, discussed the likely options of terraforming the planet Mars.
In addition, Dr. Ezinne Uzo-Okoro, Assistant Director for Space Policy of the White House Science & Policy Technology Office, spoke virtually from Washington, D.C. about America's in-space capabilities for exploring the Moon, Mars, and beyond.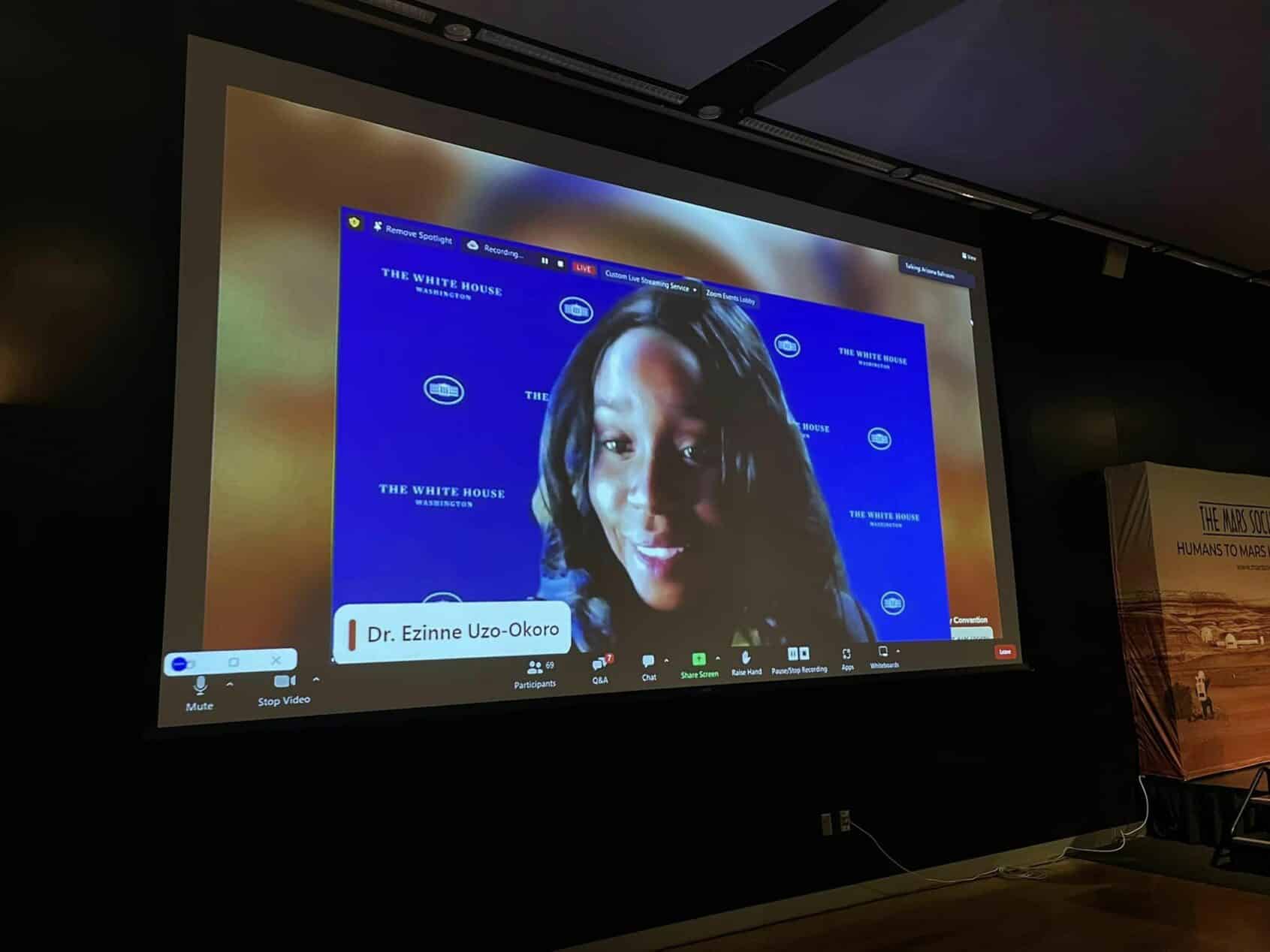 During one afternoon session, a special virtual talk was organized with Peter Beck, CEO & founder of Rocket Lab, in which was interviewed by Mars Society President Dr. Robert Zubrin and was asked questions about his company's plans for spaceflight by our audience.
Dr. Steven Benner, founder of the Foundation for Applied Molecular Evolution and described by one attendee as "a national treasure", gave a well-attended plenary address titled "The Case for Extant Life on Mars". In it, he talked about new research on how DNA/RNA processes arose on Earth and how life on Mars could have arisen differently than most people expect, underscoring the need for new life detection experiments.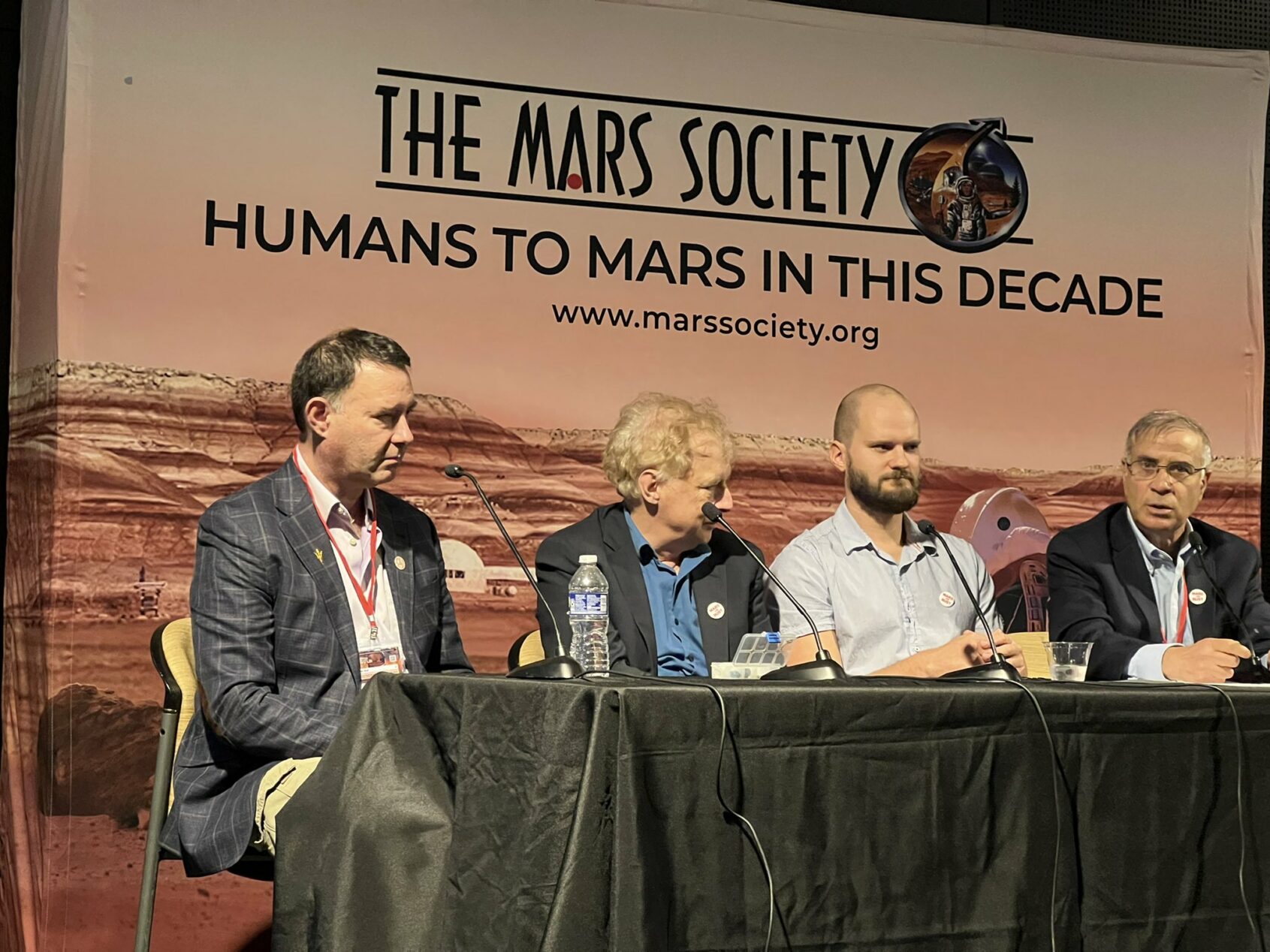 On Thursday night, we organized a public panel discussion on "The Search for Life on Mars", which included Dr. Steve Benner, Dr. Jim Bell, Jan Spacek, and Dr. Robert Zubrin, and focused on the policy debates and controversies surrounding the lack of such life detection experiments, as well as what could be done in the future.
On Friday night, the conference boasted two fun events, first a catered reception at the ASU NewSpace departmental building which included docent tours of the JPL-like space hardware design and testing facilities and the school's large meteorite collection. Next, attendees over 21 were bussed to a music venue called Last Exit Live in downtown Phoenix where they were treated to live music performances by Jason Achilles Mezilis, Revolushn, and Tedbaby at the Mars Rocks! concert.
Our traditional Saturday evening banquet included a presentation by Michael Edmonds, the President of Blue Origin's Club for the Future initiative and Senior Vice President of Strategy, Marketing & Sales for Blue Origin, who talked about the need for increased representation by women and young people in space.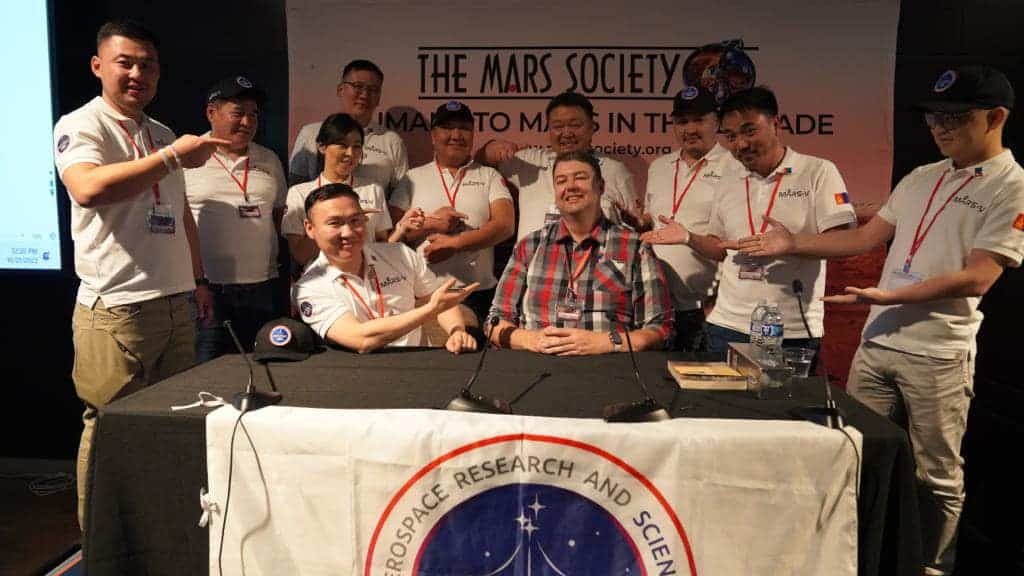 The evening also included an impressive presentation by Erdenebold Sukhbaatar, the President of the Mongolian Aerospace Research and Science Association (MARS-V), which is working with the Society to plan, build, and operate an innovative Mars research analog station in the Mars-like Gobi Desert that can be picked up and moved to explore multiple sites.
As in previous years, all of the plenary talks, panel discussions, and track talks were recorded during the course of the international convention and will be uploaded on to the Mars Society's YouTube channel in the coming days. We welcome your feedback on any/all of the videos and their content.
The Mars Society would like to thank the following people for organizing and producing our conference this year: James Burk, Carie Fay, Michael Stoltz, Susan Holden Martin, Nicole Willett, Hope Zubrin, Tiffany Rauch, Scott Smas, Michael Laine, Leah Malmos, Fabio Mendez, Jim Ehrhart, Cleo Burk Bravo, Marge Lipton, Anastasia Stepanova, Vartan Adzhemyan, Tamera Rodiguez-Hale, Jim Hale, Tasha Coelho, Nia Bowling, Ian Mayes, Sabine Heinz, Dustin Moline, Jason Simpson, Stanislau Niauzorau, Jonathan Scales, Hayden Ferrell, Gabriella Nakleh, Colette Powers, John Tayamo, Gabriella Erimli, and Luc Andrrassi.
Thank you again to everyone who attended and celebrated, both in-person and virtually, our 25th Annual International Mars Society Convention. We look forward to seeing you again next year!