The Mars Society Ambassador program is designed to serve as a professional team of advocates dedicated to elevating public awareness toward landing human explorers on Mars within a decade, leading to the eventual settlement of the red planet in the years to follow.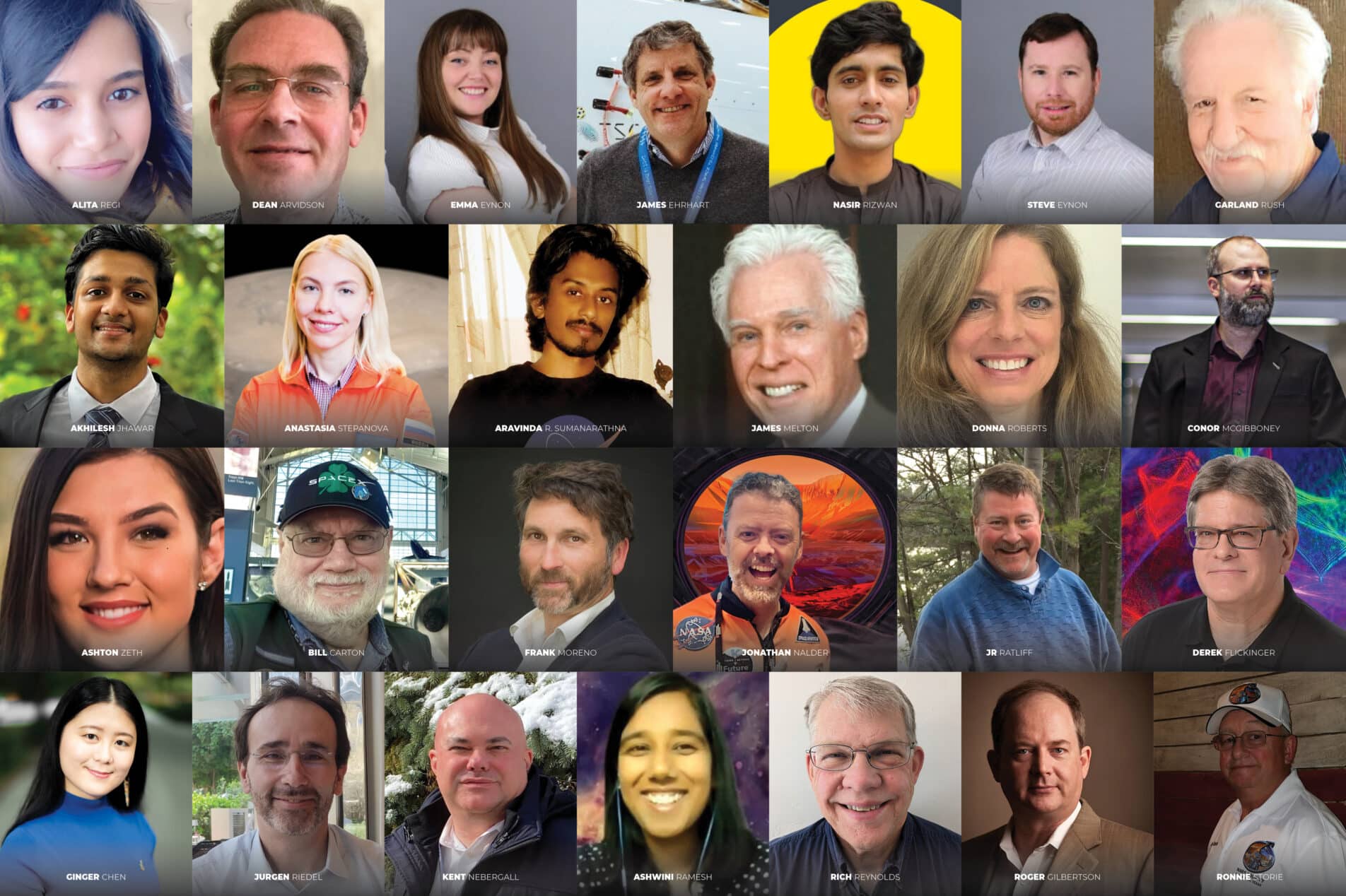 Not pictured: Robert Zubrin, Hope Zubrin, James Burk, Michael Stoltz, Edward Heisler, Sydney Phillips, Bambarende Rohan perera, Thorsten Eschweiler, Lari Cujko, Carl Greenbaum.
List of Mars Society Ambassadors
Chief Ambassador James Melton
Chief Ambassador of the Mars Society, southern California. Jim is a speaker and author on leadership and the future and a former professional pilot, college instructor and journalist. He holds a PhD in Management Science. "Our human resource is our greatest resource."
Ambassador Dean Arvidson
For more than twenty-five years, professor Dean Arvidson taught physics and astronomy at Los Angeles City College. With humor and science fact, he makes "real science" become a part of everyday life. Dean resides in Los Angeles and Yucca Valley, CA.
Ambassador James Burk
James Burk is a founding member of the Mars Society and was elevated to Executive Director of the Society in late 2021. He will be commander of crew 261 at the Mars Desert Research Station and is the lead organizer of our upcoming mission to the Flashline Mars Arctic Research Station. He's a software engineer and director of technical projects, formerly with Microsoft, and is based in Seattle, WA.
Ambassador William Carton
Bill Carton is out there on the speaking circuit presenting talks on a variety of subjects like Space Junk, History of Space Science, What's Happening in Space? and is a docent at the space museum. He weaves the Mars Society vision into his talks which he delivers mostly in the state of Oregon.
Ambassador Lari Cujko
Lari is a space professional working as startup support program Lead at the European Space Resources Innovation Centre (ESRIC) in Luxembourg. Lari has been working in the consulting industry with a focus on Risk Management and providing Space advisory services. Lari has a Master degree in Economics and Risk Management from Solvay Business School (Belgium). a Master degree in Space Systems from University of Luxembourg (Luxembourg) and is currently enrolled in the Space Resources Master degree from the Colorado School of Mines (US). Lari has been involved in the promotion of space activities and space awareness since several years towards students, young professional and kids interested in cosmology and space. As Mars Ambassador, Lari is going to promote global Mars awareness in Luxembourg and Europe to promote Mars settlement activities.
Ambassador James Ehrhart
Jim is an experienced IT professional and formerly a consultant and leader at Accenture, and is currently a Director at three startup companies that work on Virtual Reality, AI and drone inspections. He also founded MuseumWorks, a non-profit organization with a mission to apply immersive technologies to increase the accessibility of museums. He served as Crew Engineer for MDRS Crew 197 and is an aspiring private astronaut.
Ambassador Emma Eynon
Emma and her husband Steve, own a digital business helping companies around the world with data science challenges through eLearning and custom software development. They are passionate about the future of STEM, especially in Space and on Mars. As ambassadors, they promote the settlement of Mars and the Mars Society vision through free public eLearning and local STEM talks and university events.
Ambassador Steve Eynon
Steve and his wife Emma, own a digital business helping companies around the world with data science challenges through eLearning and custom software development. They are passionate about the future of STEM, especially in Space and on Mars. As ambassadors, they promote the settlement of Mars and the Mars Society vision through free public eLearning and local STEM talks and university events.
Ambassador Derek R. Flickinger
Mars talk title: Evolving From Research to Residential. His interest in space began in 1977 when he persuaded his college to add a class on space issues to their curriculum. With a degree in teaching, he shares his ideas in the classroom and the general community. Derek resides in Drexel Hill, PA.
Ambassador Isaac Gathu
An I.T. Technician by profession, a space enthusiast, the President/Founder of Mars Society Kenya, an Analog Astronaut and an 'Afronaut in Training'. He is also an Analog Astronaut with the Analog Astronaut Community and a committee member of the Space Habitats Committee at the International Astronomy Federation (IAF). He is passionate about Space Exploration, particularly Mars. His vision of founding Mars Society Kenya is to promote the Kenyan space industry while raising a professional team of Kenyans dedicated to elevating public awareness toward landing human explorers on Mars within a decade.
Ambassador Roger Gilbertson
The Apollo Moon landings and sci-fi films and TV shows of the 1960s set Roger on a dual-track path pursuing space and storytelling. He cofounded an early leading robotics website, RobotStore.com, where he created educational products including "Muscle Wires" (which NASA included aboard the Mars Pathfinder Sojourner rover). In 2007 he joined SpaceX as their first full-time "media guy." He has contributed to documentary films about electric cars, computers, and NASA. His discovery of a novel category of 2-day Earth orbits led to a TEDx talk now with more than 1.3 million views. He is a member of the FMARS 2023 crew, and Commander of MDRS mission 286. He lives, works and dreams of Mars in Los Angeles.
Ambassador Carl Greenbaum
Carl is and Engineer graduate of 1968. He worked with Grumman on Lunar Module for 6 years. Received 2nd place in Moon Base design and was a Tele-robotic finalist. He has given numerous Mars Society Convention talks. He plans to present to fraternal groups, high schools and will share his work with other ambassadors. Carl resides in Sioux Falls, SD
Ambassador Edward Heisler
Heisler was a railroad worker on freight trains an elected United Transportation Union representative for railroad workers in Chicago in the 1960's/70's. In the 1980's/90's he worked in the trucking industry and was a Teamsters Union international project organizer. He helped organize our participation in the 2022 Las Vegas Star Trek convention. Ed has been a speaker at the Mars Society Conventions. His focus is to bring Star Trek to reality.
Ambassador Akhilesh Jhawar
Akhilesh is in his junior year in college. His passion is Aerospace, but he is currently studying Mechanical Engineering. His intention is to volunteer to serve on the MDRS crew in Australia and Mongolia. His plan is to seek speaking engagements in his business community.
Ambassador Conor McGibboney
Conor McGibboney's mission is to advocate for space exploration. His undergraduate degree is in physics, and he is working on a masters in integrated science and technology for physics. His thesis is titled, Ram Accelerator Design Considerations for Aerospace Engineers. He resides in Hammond, Louisiana.
Ambassador Jonathan Nalder
As a Mars Society Ambassador, Jonathan Nalder will continue his work as in the past by presenting 20+ times to students in Australia and select international locations who plan and design habitats and investigate Mars-related scenarios. His work with STEM related programs is extensive and both with virtual and in-person presentations. He will continue with the Mars Society Australia-endorsed FirstonMars.net program, and the STEMPunks.com involvement.
Ambassador Jonas Narh
A third-year student at Thunderbird School of Global Management, Ambassador Jonas Nahr continues his interest in space exploration and the expansion and preservation of consciousness. He is pursuing his plan is to establish a Mars Society Club at the school. He will promote initially to Thunderbird classes in Space Leadership and Business Policy. He resides in Phoenix, Arizona.
Ambassador Sydney Phillips
Sydney is an entrepreneur on a mission to push humanity forward. She has built five successful companies at the mere age of twenty-two. As a keynote speaker and realtor, she has designed an innovative and world-changing concept of 3D immersive experience scaled to true size. With AR, VR and AL she has primed these technologies for simplicity. The technology can be adapted for future use in space. She has been named as one of the Top 100 US Business Leaders and earned the title of 'Young Female Entrepreneur of the Year'. She is based in Austin, Texas.
Ambassador Ashwini Bhadravati Ramesh
Ashwini Ramesh is an Aerospace Engineer and a space educator. She has presented topics such as flight, rocket, space, orbital mechanics, the universe, and colonization to students aged between 7-18 years old from more than 20 countries. She feels that space education is the perfect approach for this generation of students to prepare them for the space industry. She resides in Canada and India.
Ambassador John "Camp" Ratliff
John Ratliff is a geologist, geophysicist, and IT solutions architect. With the topic of Solution Architect, he will present his information to those of the next generation who will participate in this human expansion into space. By setting our sights on the settlement of Mars, a myriad of spinoff benefits applicable to Mars and Earth would be self-evident, sooner rather than later. John is based in Austin, Texas.
Ambassador Alita Regi
Alita is in her first year of her PhD program at Florida Tech in Melbourne, FL. She is engaged in hands-on activities and experiments like designing and building a wind tunnel, high altitude balloon experiments, space suit construction and operation, and physiological body functions. Her intention is to pass her knowledge on, and she asks the question, "How many children will be able to live their dreams?" With refreshing enthusiasm Alita Regi is spreading the word of our new world in space. Alita resides in Dubai and Florida.
Ambassador Rich Alan Reynolds
With a solid background in the aircraft and space industry at Boeing Aircraft, he holds a Master's in Science degree and speaks on questions and issues that are posed by most of the general public. His intentions are to share these ideas with our youth in STEM programs and at gatherings in his local community. Rich resides in Spanish Fork, Utah.
Ambassador Jurgen Riedel
A former high school teacher Jurgen pursued studies in Physics and Astronomy and holds a PhD in Biology. As a researcher and entrepreneur, he worked 20 years in science related industries. His Mars Society outreach will be to high schools, universities, and service clubs.
Ambassador Nasir Rizwan
Nasir's astro journey started with teaching astronomy to an orphanage, hosting star parties and being nominated Best Ambassador of Pakistan by SUPARCO in 2021 and 2022 followed. I believe that Space has the power to unite us all, and we must work together to unlock its full potential. Join me on this journey to Mars and beyond!
Ambassador Bambarende Rohan perera
As a professional Pharmacist, Bambarende will speak to students, Engineering and Teachers Associations. He heard of the Mars Society through social media and supports their vision. Also, he is attentive to the current space programs as they unfold day-by-day. He resided in Sri Lanka.
Ambassador Garland Rush
Garland Rush is an inventor, artist and entrepreneur. His Graphene bubble concept is designed a sustainable habitat living in space, on Earth and Mars. Although at present, only a concept. He will share the Mars Society mission mainly in print form—magazines, newspaper columns and newsletters.
Ambassador Anastasiya Stepanova
Mission specialist in Mars160, SIRIUS-19, PhD candidate in Space Resources at Colorado School of Mines, space journalist, engineer. Anastasiya has a master's degree in journalism from Moscow State University, studied 4 years for space journalism under Russian astronaut Yuriy Baturin. She Anastasiya is a certified rescuer and serves in the public search-and-rescue squad "SpasRezerv".
Her dream, alongside going to Mars, is to unite the whole world in one goal—space exploration!
Ambassador Michael Stoltz
Michael is the long-time (volunteer) director of media & public relations for the Mars Society and a member of the organization's steering committee. His professional background involves non-profit fundraising, strategic planning, and government affairs. With a deep interest in astrobiology, interstellar travel, and the search for exo-planets, Michael is also one of the co-founders of Mars Society Chicago.
Ambassador Ron Storie
I run the Mars Society San Antonio Chapter. We need to become a multi planet species if we want humanity to survive. The quest for this will generate new inventions that will improve the entire world. Mother Earth has experienced 5 major extinction events, it is just a matter of time before the next event. Imagine every invention, every song or book or hero—they will all be lost if we do not progress into to space.
Ambassador Aravinda Ravibhanu Sumanarathna
As an Astrobiologist Aravinda is researching the fundamentals of extraterrestrial life and how samples correspond with factors of paleontology and petrology. Eco Astronomy mechanics and concepts are part of his PhD. He participated in the 2021 Mars Society Convention, titled, "Space Archaeology in Mars: Anthropological aspect of Humans as a Multiplanetary Species in 2050".
Ambassador Ashton Zeth
Ashton is the host of The Mars Society's Red Planet Live Podcast host. As an ambassador, her target audience is high school students with a focus on STEM and space exploration, becoming an interplanetary species and future settlement of Mars. She was accepted for NASA Social, a program for space enthusiasts to learn and share information about NASA missions, people, and programs. She resides in Spokane, Washington.
Ambassador Hope Zubrin
With a Master's in Education, Hope is a science teacher at Jefferson County Public Schools in Colorado.
Ambassador Robert Zubrin, PhD
Author of numerous books including, The Case For Mars, Aerospace Engineer and Founder and President of the Mars Society. Formally with Martin Marietta, now President of Pioneer Astronautics, an aerospace research and development company based in Lakewood, Colorado.
How to Join the Mars Society Ambassador Program
Those accepted into the program will, with the assistance of Mars Society management, look to participate in both in-person and virtual speaking opportunities at organizations, schools, and other public events in order to promote the importance of the humans-to-Mars concept as well as involvement with the Mars Society.
Upon completing the application form and meeting the requirements, a Mars Society Ambassador package will be provided to participants with guidelines on how to deliver the facts, figures, and timelines that will ignite a spark to entice people to be curious about their future in space.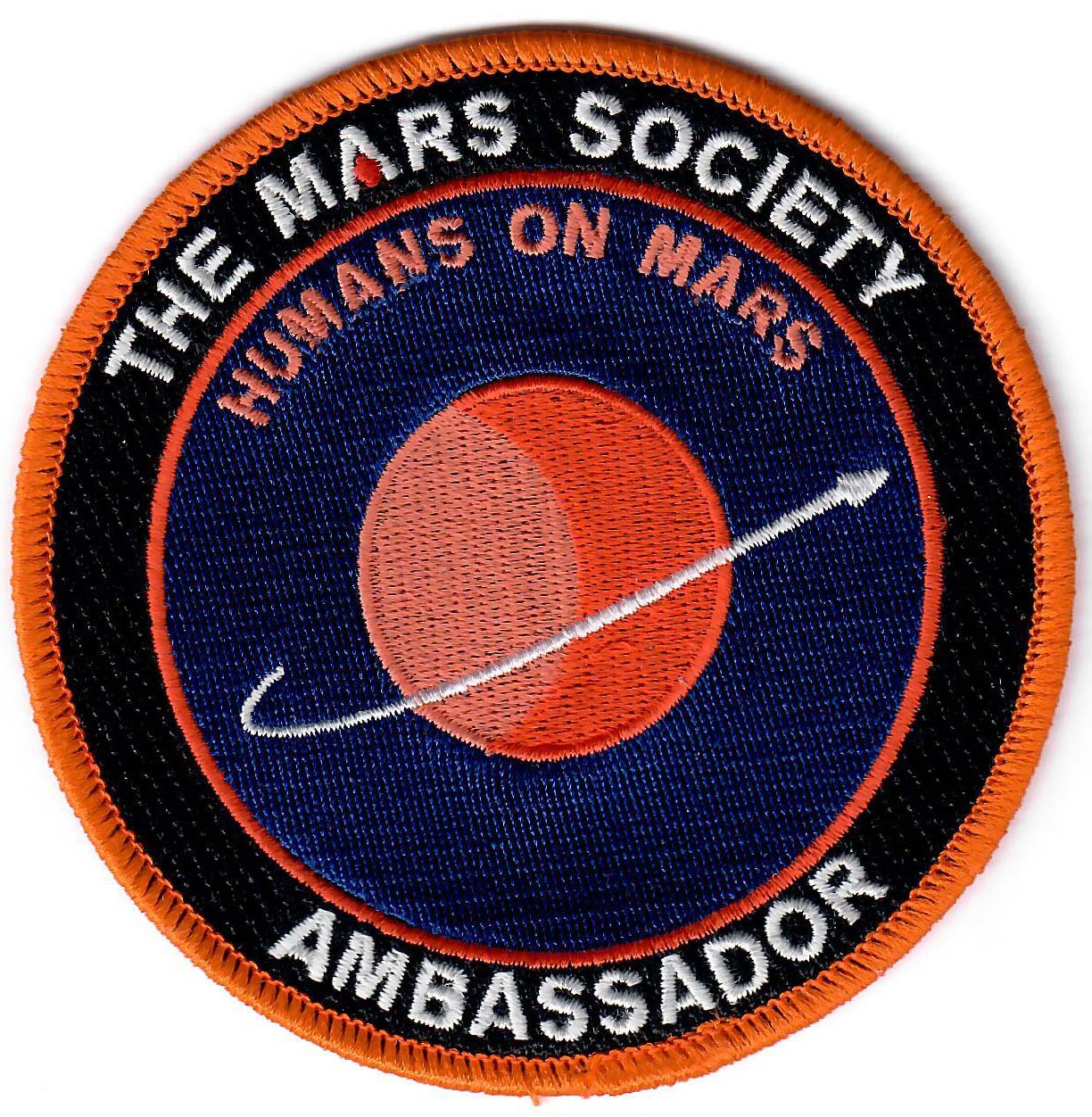 This package will include:
Mars Society Ambassador Manual (full version)
Official Mars Society Ambassador Certificate
Embroidered Ambassador Patch
Welcome letter from Dr. Robert Zubrin, Mars Society President
PowerPoint Presentation
Presentation Video
Presentation Script
Mars Society Video
If you have any questions or comments about the Mars Society Ambassador program, please email James Melton at info@challengetomorrow.com
We look forward to your participation in the Mars Society Ambassador program, as well as providing you with an opportunity to share your expertise as an advocate for Mars and space exploration. Thank you, and on to Mars!
Download the Mars Ambassador Brief Manual
Join the Mars Ambassador Program
A Message from Dr. Robert Zubrin
Founder & President of The Mars Society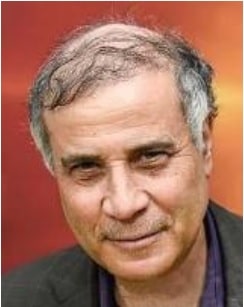 Today, technology has arrived at a level where we have the means to fully explore our solar system. We also have the resources, the ability, and the tools needed to make our vision of settling the planet Mars a reality—an achievement never before realized. Our challenge now is to convey this information with the global community on a grand scale. Our Ambassador program is designed for this purpose. We have a limited window of time to accomplish this, as Elon Musk of SpaceX so powerfully said, "With Extreme Urgency." Become a Mars Society Ambassador and meet the challenge to inform and inspire the world.