Updated June 28, 2023
The Mars Society is launching its second annual International Mission to Mars Engineering Design Competition this summer for high school students from around the world. Students are encouraged to register online for this unique exploratory design challenge.
Update: Please note that the deadline for registering for the 2023 Mission to Mars educational program has been extended until Friday, July 7th (5:00 pm MT), at which time student teams will be formed.
Modeled on the approach taken in engineering design courses at some of the best global universities, the virtual program will involve morning and afternoon sessions (Monday-Friday) from June 26th through July 31st, involving lectures with leading scientists and engineers from NASA, the aerospace industry, and the academic community.
Register Here to join this year's program.
Watch On-Demand both this year's and last year's daily lectures.
Details on Last Year's Program
This summer, the Mars Society conducted a truly groundbreaking educational program for 40 high school students from around the world, modeled on the approach taken in engineering design courses at some of the best universities in the world.
With this six-week virtual program, the Mars Society looks to make educational history by demonstrating the value of a new and much more creative way to teach science and engineering at the secondary school level than is currently being practiced.
Tuition fee for the course was a nominal $50, making it possible for students of all economic levels to participate.
The first cohort represented a diverse and multicultural group of 40 high-school age students from around the world who were organized into five teams based on their time zones. Students hailed from the U.S., Canada, Germany, Poland, the United Arab Emirates, Peru, the Philippines, Singapore and India.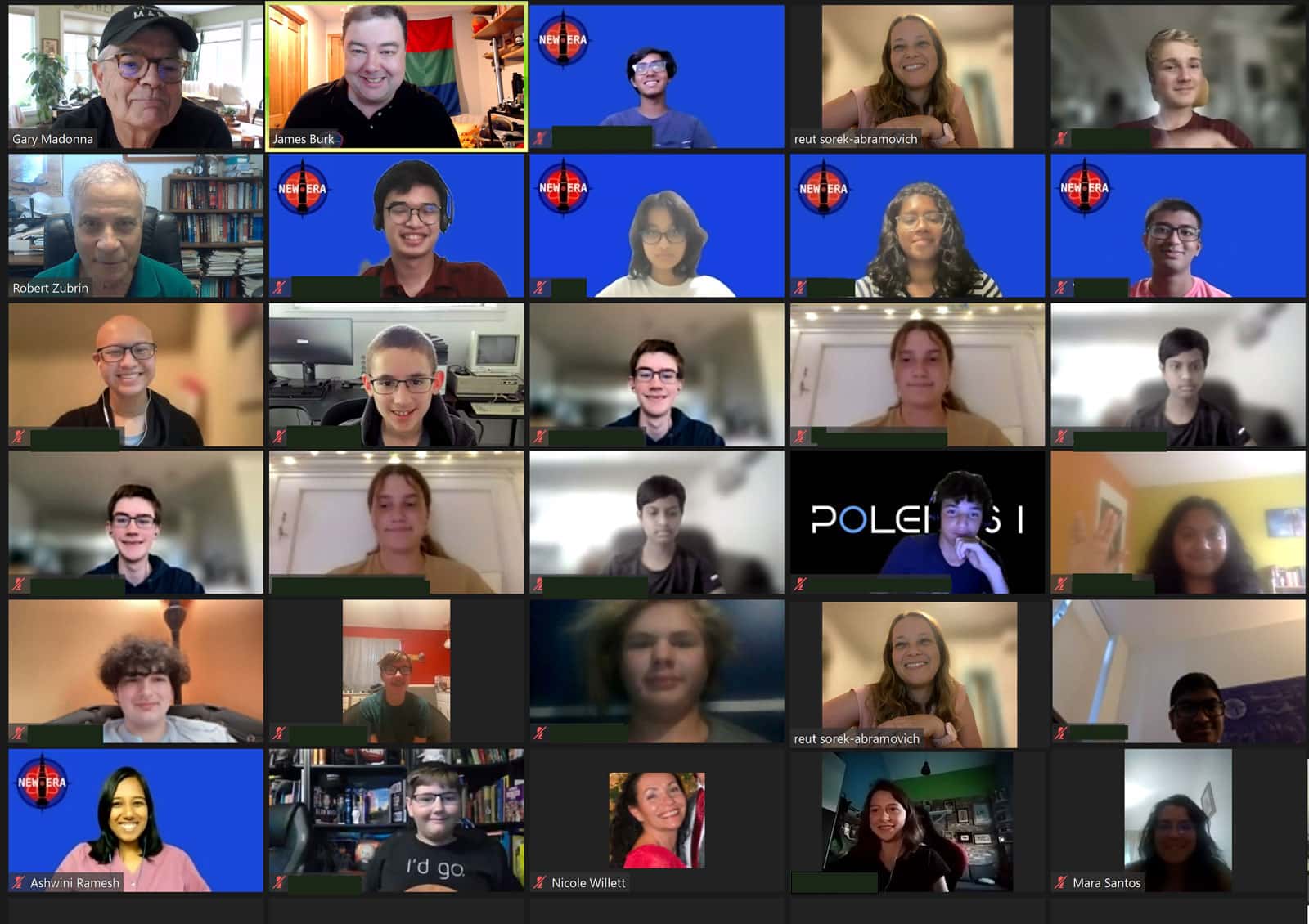 The team scoring highest in the competition was Team 2, who named themselves "N.E.W. E.R.A.", and consisted of students from across Asia and the Americas. We also provided individual winners for each of the four scoring categories: Team 5 won for Science, Team 3 won for Engineering, Team 2 won for Human Factors, and Team 1 won for Cost. All five of the teams created excellent design concepts and are being recognized for their achievements in multiple ways.
During the program, the students have been encouraged to communicate and collaborate using whatever tools and methods they were most comfortable with.
The participants were provided background lectures via Zoom video conferencing by some of the most prominent Mars experts in the world on a wide variety of topics. These include how to search for life on Mars, how to design spacesuits and other critical mission elements, and the science and technologies behind Mars exploration.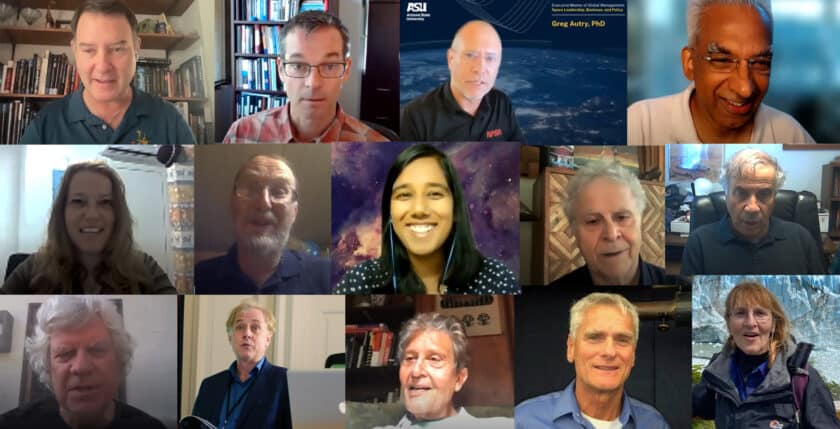 Guest lecturers included:
Dr. James Bell, principal investigator of the Mastcam-Z camera system on NASA's Perseverance rover, who shared the latest techniques and approaches for exploring Mars with rover-based science instruments.
Dr. Steven Benner, an expert microbiologist who covered the nature of DNA and RNA and how to detect life signatures.
Dr. Carol Stoker, a NASA Ames scientist who discussed concepts and approaches for searching for life on Mars, as well as past attempts.
Dr. Chris McKay, a NASA Ames researcher who covered his work in searching for life on the Red Planet and in extreme environments on Earth.
Homer Hickam, the author of "Rocket Boys" (which was made into the movie "October Sky"), who shared his experiences with rocketry as a high schooler in the 1950s and as a NASA employee during the Space Shuttle era in support of astronaut training.
Dr. Lawrence Kuznetz, a former Apollo mission controller who is also an expert on lunar & Mars surface EVA suits.
Dr. Greg Autry, a space policy expert with Arizona State University who provided a professional roadmap for students interested in pursuing space careers.
Dr. Reut Sorek Abramovich, founder of the D-MARS analog program based in Israel, who is an expert on field science and astrobiology.
Dr. Geoffrey Landis, NASA scientist and science fiction author, who discussed his work on NASA's Mars Pathfinder and Mars Polar Lander missions.
Dr. Madhu Thangavelu, an expert on lunar exploration from the University of Southern California.
Dr. David Poston, formerly with Los Alamos National Laboratory and an expert on the use of nuclear power in space.
Dr. Nathaniel Putzig, a scientist from the Planetary Science Institute and expert on mapping water ice on Mars.
Ashwini Ramesh, an aerospace engineer and educator, who has researched the approaches to grow and create all types of food on Mars.
Dr. Ken Brandt, a NASA Solar System Ambassador, who covered past failures and successes of Mars missions as well as landing site selection criteria.
Caleb Eastman, an engineering expert, who focuses on both hardware and software robotics technologies.
The Mars Society has made nearly all of these educational lectures available to the general public via our YouTube Channel.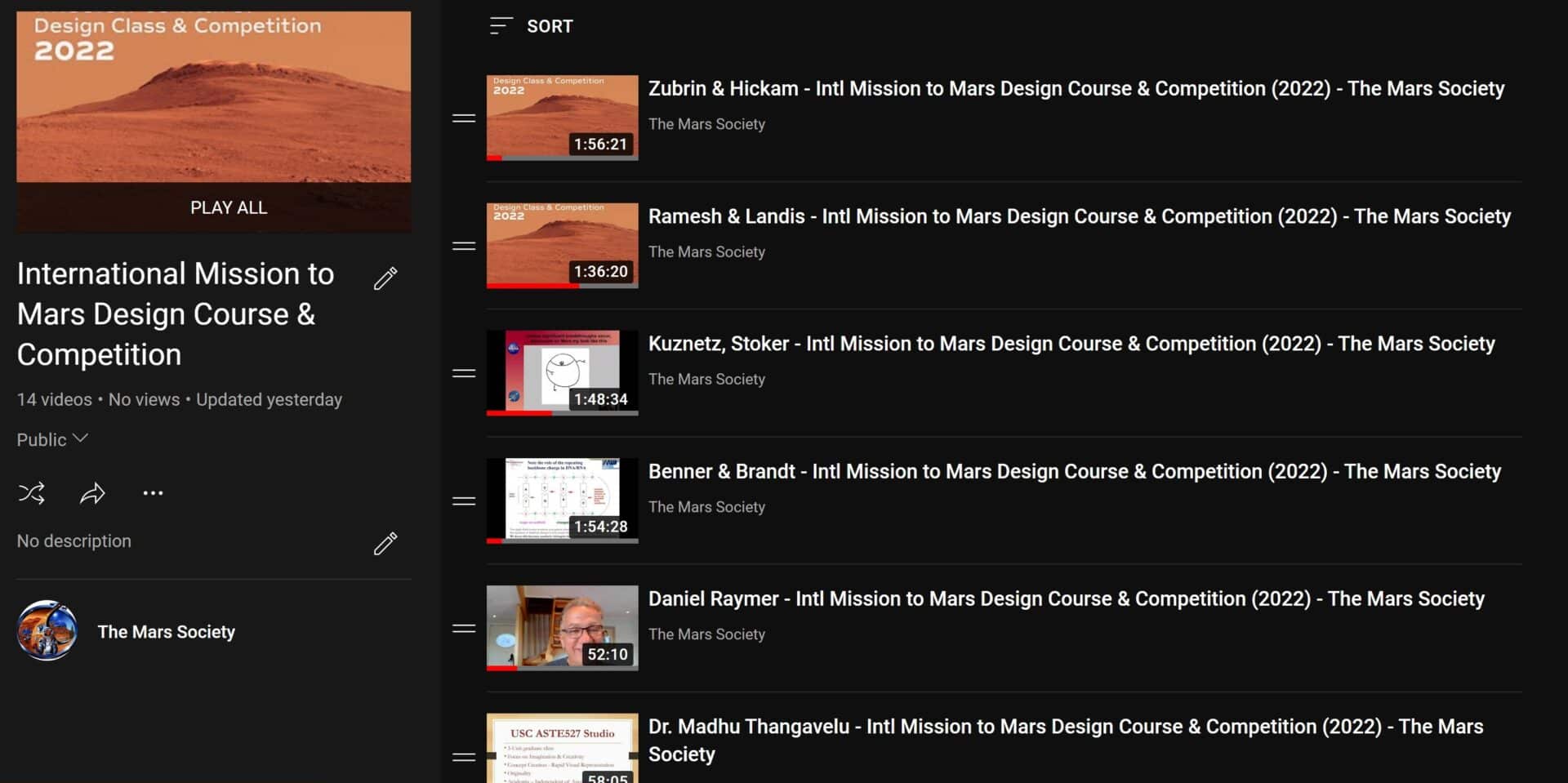 The program succeeded in teaching these high school students advanced concepts about science, engineering, technology and mission design. The participants then designed their own Mars surface mission, including its habitat, surface vehicles, scientific instruments, power system and other equipment and supplies, crew size and composition, mission location, scientific objectives, rations, duration, and exploration plan. They had 30 metric tons of useful payload that had already been delivered to the Martian surface, plus an ascent vehicle capable of returning up to six astronauts from Mars to Earth.
The students created mission design elements with four major factors in mind: Science, Engineering, Human Operational Challenges, and Cost. These factors were the key elements of the scoring rubric, and teams were organized to have students focused specifically on these areas, so that the proper discussion and tradeoffs could be made in their final designs. In addition to handling their own area as well as they can, the students worked out the best possible compromises to produce the best overall result.
The designs of each team were written up in a report, with each team member responsible for authoring a section. In addition, eight coaches/mentors were also assisting and supporting the students with their design work and presentation preparation activities.
The final shootout occurred in three rounds. During the first rounds, each team had 30 minutes to present their designs of a human Mars expedition to a panel of eminent judges. During the second round, each of the teams had 30 minutes to make criticisms of the other teams' designs. For the third round, the participating teams had 30 minutes to defend their design by rebutting the criticism advanced by the other teams, as well as to present a final "closing argument" on why their design was the best. All three rounds can be viewed on our Youtube Channel.
An expert panel of judges rated the participants' designs, presentations and rebuttals based on their technical and scientific merit and how they address the four major factors.
The Mars mission designs will be published by the Mars Society in a book, which will be available for sale on Amazon.com. Students who participated in the design activities will receive a certificate attesting to their participation, useful for augmenting their college entry applications.
In addition, the winning design team has been invited to present their proposal at the 25th Annual International Mars Society Convention this October at Arizona State University. The Mars Society will also organize a special panel at the event with several of the program participants (including students) to discuss the overall learnings from this program.
The Mars Society would like to thank the following individuals for participating in the program as a mentor, judge, or volunteer: Sherry Bell, Sabine Heinz, Trudi Hoogenboom, Tobias Koch, Gary Madonna, Haritina Mogusanu, Jonathan Nalder, Kent Nebergall, Emmanuel Olobae, Ashwini Ramesh, Mara Santos, Reut Sorek-Abramovich, Julia Alvarez Vallero, Bryan White, Nicole Willett, and Emma Young. The program was conceived by Dr. Robert Zubrin and coordinated by James Burk, the Executive Director of the Mars Society.
The Mars Society is now seeking educational grants and other funding sources in order to continue and even expand this program next year. Inquiries can be directed to Mars Society Executive Director James Burk at jburk@marssociety.org.
---
Visit our Youtube Channel to watch the guest lectures!