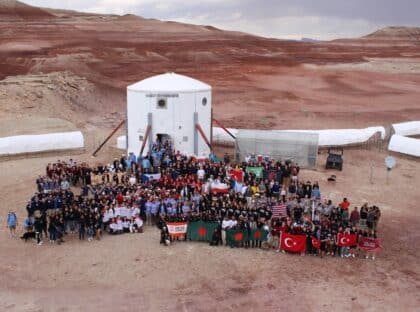 After 3 days of incredible competition, the 2023 University Rover Challenge (URC2023) crowned a new champion, Team Mountaineers from West Virginia University in the U.S.!
This was the first URC podium finish for Team Mountaineers, and the second consecutive victory by a team from the United States.
Also for the second consecutive year Monash Nova Rover (Monash University, Australia) finished in second place. The BYU Mars Rover team from Brigham Young University (USA) finished in third place.
Team Mountaineers (West Virginia University, USA) – 425.35 points
Monash Nova Rover (Monash University, AUS) – 354.83 points
BYU Mars Rover (Brigham Young University, USA) – 344.09 points
104 teams from 15 countries began the year competing in URC2023. In March, the top 37 teams were invited to compete in the URC2023 Finals, which concluded June 3, 2023 at the MDRS – Mars Desert Research Station in Utah.
For URC, teams of college students design and build the next generation of Mars rover that will one day work alongside astronauts exploring the Red Planet.
Teams and their rovers compete in 4 separate missions (Science, Extreme Delivery, Equipment Servicing, and Autonomous Navigation Missions). Mission scores are combined with scores from an earlier design review for the final standings.
The final scores for all 37 finalists are available at https://urc.marssociety.org/home/about-urc/urc2023-scores.
URC and the Mars Society would also like to thank our incredible sponsors: Protocase, the KISS Institute for Practical Robotics, Mastercam, and Astrolab!