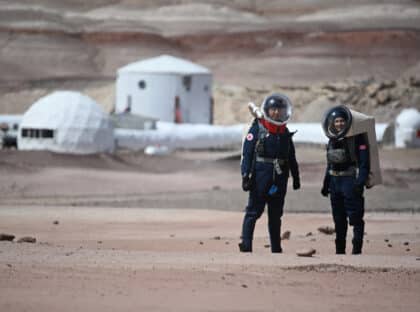 Located in southern Utah, the Mars Desert Research Station (MDRS) is a private scientific facility used by trained crew members to carry out important research and field studies to help future human explorers on Mars.
Our MDRS field season, which includes rotating analog crew missions on site, begins at the end of October 2022 and concludes in early June 2023.
MDRS does not offer public touring of the facility or campus. People are allowed to pass by from Cow Dung Road outside Hanksville in order to view the station from a distance. Approaching MDRS or interacting with its crews while conducting EVAs outside the station is not allowed for any reason. Visitors are also asked not to fly aerial drones in and around the area during crew simulations.
Also we are sorry for the continued false information being posted in the media and on social media platforms that gives the impression that MDRS is some kind of tourist attraction or accepts public visits. Due to the type of research being conducted on site, public visits or touring is not allowed at any time.
We appreciate your cooperation and understanding.