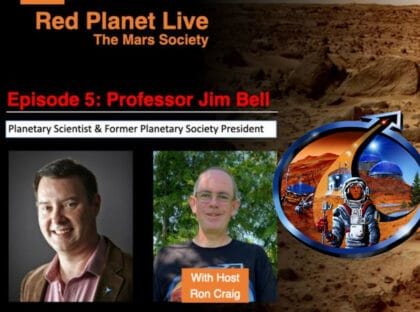 Please join us Thursday, September 30th at 6:00 pm PT / 9:00 pm ET for another amazing episode of Red Planet Live!!!
In this episode, RPL host Ron Craig will be speaking with Dr. Jim Bell, Professor of Astronomy & Planetary Science at Arizona State University's School of Earth & Space Exploration, and past President & Board member of The Planetary Society.
Dr. Bell will be discussing a number of incredible Mars-related topics that he is involved in… past, present and future. Spoiler alert… ASU leads Mastcam-Z camera operations currently being used on NASA's Perseverance rover that is conducting scientific research right now on the surface of Mars!
To watch the RPL episode live on our YouTube page, please visit: https://bit.ly/3ocgRT9. You can also watch on Linkedin at: https://bit.ly/3uf0Ht9.
We are so excited to welcome Dr. Bell to the show! If you have any questions you'd like to ask him, please forward them to ron@roncr.com, and who knows… a lucky listener may even get the opportunity to come on the show live with Dr. Bell and ask your question directly!