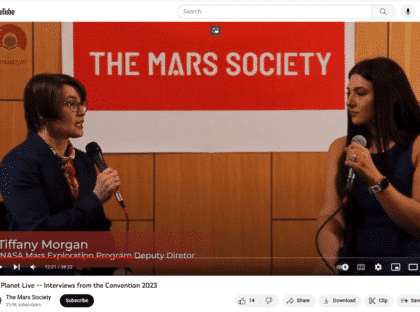 The Mars Society invites you to a special pre-recorded episode of its Red Planet Live (RPL) video podcast with host Ashton Zeth interviewing a number of speakers from the recent 26th Annual International Mars Society Convention at Arizona State University (Tempe).
With Ashton serving as a senior volunteer during the Arizona conference October 5-8, a decision was made to schedule a series of brief recorded interviews with plenary and track talk speakers for the October show for streaming beginning Tuesday, October 17th on the Mars Society's YouTube channel.
Those being interviewed by Ashton during the convention included Dr. Wolfgang Fink (University of Arizona), Kai Staats (Biosphere-2), Eric Kristoff (Mars Society Chicago), Dr. Greg Autry (Thunderbird School of Global Management), Roberto Carlino (NASA HERA Analog Crew), Tiffany Morgan (NASA Mars Exploration Program) and Roger Gilbertson (Commander, MDRS Analog Crew).
To watch other episodes of the Mars Society's RPL podcast, please click here.