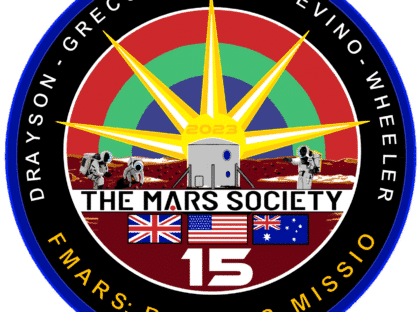 The Mars Society is pleased to announce that a five-person crew will be visiting the organization's Flashline Mars Arctic Research Station (FMARS) on Devon Island in northern Canada in mid-July 2023 in order to reactivate the facility and conduct a two-week simulation in one of the most Mars-like environments on Earth just 900 miles from the North Pole.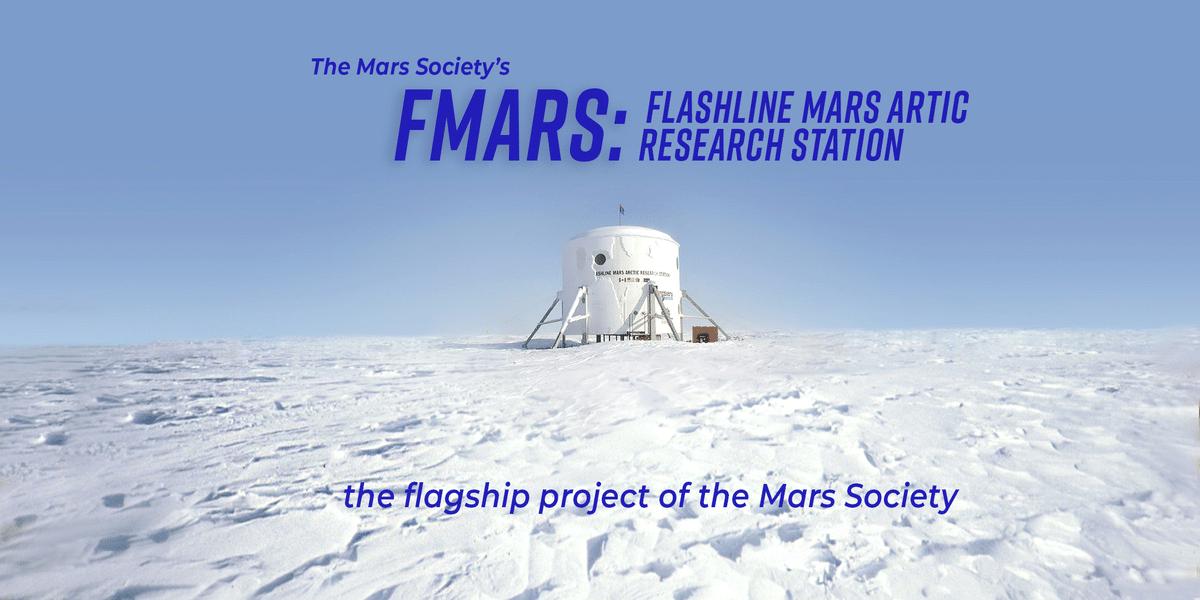 A multi-national team from the United Kingdom, Australia, and the United States, designated as Crew 15, will spend approximately 7-10 days working to repair and upgrade the station, with the remaining days used to carry out a program of sustained geological and microbiological exploration while operating under Mars mission constraints. Since the early 2000's, Mars surface simulations on Devon Island have provided unmatched value in helping humans prepare to explore the Red Planet.
Participating in the four-week visit to FMARS will be:
Andrew Wheeler – Australia (Commander) – Andrew is a senior geologist for a geology, surveying, and engineering consultancy, supervising exploratory drilling programs and mentoring graduate and junior geologists on site. He has also served in similar roles in projects around the world. Andrew has served as a member for Crew 214 and 215 at the Mars Desert Research Station in Utah in 2019, commanding 215, and will be commander again for Crew 291 at MDRS in early 2024. He has a B App Sci in Applied Geology (QIT Queensland Australia), Post Graduate Diplomas in Science (Earth Science) and Education (UQ Queensland Australia), and collaborates in research into Martian geology.
Terry Trevino – U.S. (Executive Officer & Crew Scientist) – Terry is the founder of Space4All, a non-profit organization that focuses on developing new space technologies to enable massive growth and accelerate the development in existing and entirely new space industries. A trained aerospace scientist, he is also the co-founder of Magneto Space, a company that aims to determine best practices and methodologies required for a true electromagnetic environment. Terry has a B.A. in Political Science and Economics (University of Texas Austin), a Master's in Aerospace Science and Air & Space Operations Technology (American Military University), and is currently a Ph.D. student for Space Studies, concentrating on Human Factors Research (University of North Dakota).
Olivia Drayson – U.K. (Mission Science Lead & Crew Scientist) – Olivia is a Ph.D. candidate in Environmental Toxicology (University of California, Irvine), researching the effects of radiation on the brain. Originally from London, she holds a B.S. in Physics (University of Oxford) and a MSc in Aerospace Engineering (ISAE-Supaero). Her current research involves studying a novel radiotherapy technique called FLASH that can spare cancer patients from the effects of damage to healthy tissue. Olivia is also collaborating with the Space Medicine Team of the European Space Agency on a project investigating the radiation risk to astronauts on future lunar and Mars missions. An avid hiker, she has trekked with an expedition to a Mount Everest base camp.
Andy Greco – U.S. (Crew Engineer) – Andy serves as an Engineering Team Lead involved in the final assembly of Boeing's 737 MAX airplane in Seattle. In addition, he worked as an Aerodynamics Engineer and an Airport Compatibility Engineer for Boeing in California, concentrating on airplane limitations and certification. Andy was also a Lead Performance Engineer for General Electric's wind turbine operation, focusing on composite structural damage evaluation and repair. He has a B.S. in Aerospace Engineering (Florida Institute of Technology) as well as an Associate of Science degree in Aviation Science (SUNY Schenectady County Community College) and is currently halfway through a Master's Degree in Space Systems (Florida Institute of Technology).
Caleb L. Pool – U.S. (Crew Engineer & HSO) – Caleb is a Mechanical Systems Design Engineer for Boeing in Seattle, focusing on multi-discipline design and build of custom space vehicles and integrated subsystems. He previously worked as a Boeing Space Systems Engineer in Colorado Prior to that, he worked for the company as a Space Systems Engineer. Caleb has B.S. degrees in Mechanical Engineering & Mathematics (Southern Methodist University) and a Master's in Mechanical Engineering (University of Colorado, Colorado Springs), with a strong space emphasis concentrating in dynamics and controls. In addition, he is a certified Firefighter, an Emergency Medical Technician (EMT), and a certified private pilot, and also holds two patents and enjoys mountaineering and kitesurfing.
Prior to the start of the simulation, crew members will work at FMARS for approximately one week to repair and upgrade the habitat's interior. The last mission to Devon Island took place in the summer of 2017, so the facility is expected to need some maintenance work.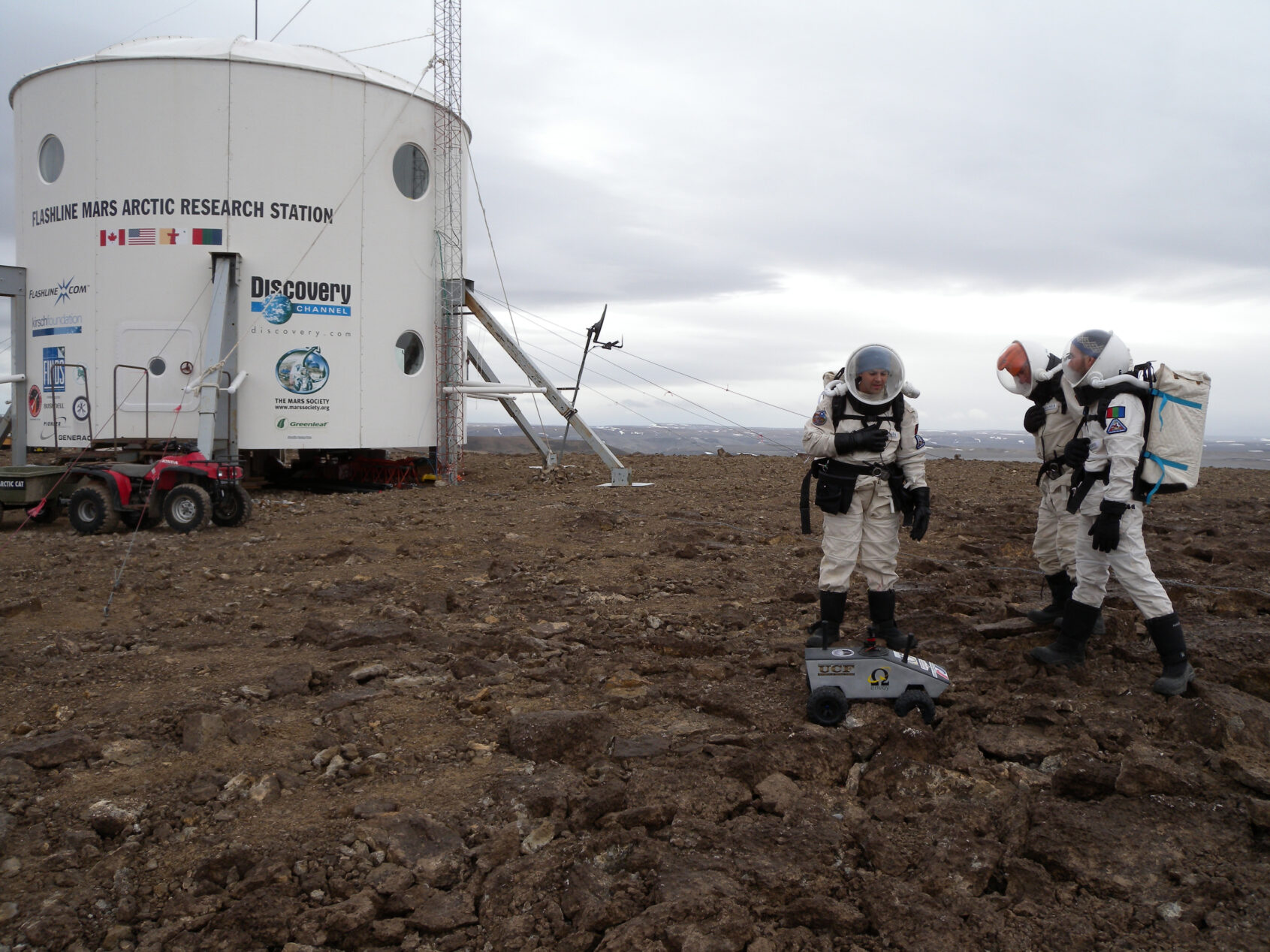 Crew 15's simulation mission will have three primary scientific objectives: Continuing the geological and biological fieldwork conducted during the MARS160 mission, monitoring the local water and radiation environment around the Haughton Crater, and creating a detailed map of the local features for future missions.
For the first scientific investigation, the crew will relocate patterned ground spots and stromatolites (fossil structures created by microorganisms) and set up 3 series of data loggers to evaluate changes to a layer of permafrost over a 12-month period. They will also search for bacterial colonies and plant species and bring samples back to the habitat to study.
For the second investigation, the crew will study the water in the Haughton River for microplastics and water pollutants and document the invertebrate species. They will also measure the background radiation inside and outside of the habitat using passive and active dosimeters.
Lastly, all the locations of geological features and biological hotspots will be added to a map of the habitat's local area, as well as walking and ATV trails and other features relevant to analog missions. This will be an invaluable resource to future FMARS crews.
Public outreach will also be a focus of the crew's mission. Several live broadcasts from Devon Island (upon competition of the simulation) have been arranged with several international Mars Society chapters in order to broaden public understanding of the crew's mission, as well as plans for filming and developing a number of short educational videos intended for distribution to grade school students around the world.
Also involved in the 2023 FMARS mission are Roger Gilbertson, a veteran marketing consultant, film producer, and product designer, as well as commander of the upcoming MDRS Crew 286 mission in Utah, and Eleonore Poli, a post-doctoral researcher, analog astronaut trainer, and founder of CHASM, both of whom will be serving as lead participants (from Earth) for Crew 15's CapCom team during the four-week visit to Devon Island. In addition, James Burk, Mars Society Executive Director, has been heavily involved in overall mission planning and crew recruitment for the past 12 months, while Dr. Shannon Rupert, Senior Director of Analog Research for the Mars Society, has been advising the mission's science agenda and helping with logistical planning.
The Mars Society would also like to express its appreciation to Tim Gagnon, owner & chief artist of KSCartist.com, for designing the Crew 15 patch for the mission to FMARS. Over the years, Tim has worked with NASA to create numerous mission patches for the agency's flight crews in space.
Regular updates and photos from the FMARS mission will be added to the Mars Society's social media platforms. To learn more about the FMARS program or how you can support the organization's Mars analog programs, please visit www.marssociety.org or contact James Burk, Mars Society Executive Director, at: jburk@marssociety.org.