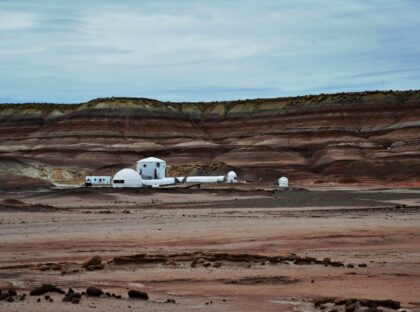 The Mars Society is pleased to announce a number of opportunities to participate as part of the Mars Desert Research Station (MDRS) Mission Support and/or Management Teams.
There are plenty of opportunities to participate at MDRS other than as a crew member. If you would like to get involved in any capacity, or if any of the volunteer positions listed here interest you, please contact us. We would be delighted to have you join us. Remember, most of these volunteer opportunities rely on your virtual presence, so you can be part of the team no matter where you are in the world.
Mission Support volunteers are the backbone of the crew experience. We support crew members from the application process through their rotation at MDRS and beyond.
We are currently looking for the following Mission Support personnel:
Mission Support Comms Team: We are looking for a self-structured group interested in operating a Mission Support center for our crews. This would be an excellent opportunity for a group of people looking to develop their own methodology for supporting a Martian crew. We are looking for a group from a space-related organization that could maintain this system for a minimum of one field season beginning in Fall 2023. It is important to remember that our crews are not test subjects and so while there is an opportunity to do human factors research while doing this, it would have to meet the needs of our program. If you would like to propose a remote operational COMMS center, please contact Sergii Iakymov at sergii@marssociety.org.
Greenhab Manager: The GreenHab Manager is a member of the MDRS management team and is responsible for crop production, upgrades and improvements and directing crews on how to maintain the GreenHab while they are at MDRS. This role can be taken on by an individual with greenhouse, agriculture or horticulture experience, or could be further developed by a number of people into the GreenHab team. Please contact Dr. Shannon Rupert at srupert@marssociety.org if you are interested.
Work Party Team Members: We hold work parties at MDRS each year. Anyone willing to work on projects that vary from cleaning to building things is welcome to join us. Work parties are generally held at the beginning of each field season. Participation requires a minimum three-day commitment and food and housing are provided. Travel to and from MDRS is the responsibility of the participant. Please contact Dr. Shannon Rupert at srupert@marssociety.org if you would like to join us.
Astronomy Team: We are looking for people who would like to contribute to our astronomy research and education/outreach. Please contact our Director of Observatories and the leader of the Astronomy Team, Dr. Peter Detterline, at pdetterline@marssociety.org.
Web Team: Our MDRS web team maintains this website and ensures that crew reports, photos, videos, and longer-form reports are posted expeditiously. James Burk, our Executive Director and MDRS Webmaster, leads the MDRS web team. Please contact James at jburk@marssociety.org with your interest and a brief description of your skillset.