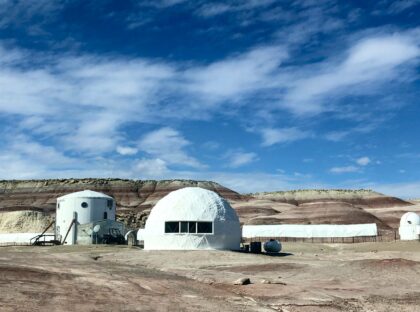 The Mars Society is seeking applications from qualified people for onsite management positions at the Mars Desert Research Station (MDRS) in Utah, the largest and longest-running Mars analog facility in the world. The station is set amid some of the most spectacular landscapes you will ever see, and researchers come from all over the world to participate in our analog research & educational programs here.
We are presently taking applications for Station Managers beginning immediately.   You must be able to work in the U.S. and possess a high level of written/spoken English fluency.  This position is for in-person work only.  We are looking for people who can commit to working at MDRS three to six months a year.  Work is generally assigned by the academic quarter.  We envision these positions as career seasonal and are looking for people who will commit to more than one field season.
MDRS is a remote research station. The nearest town of Hanksville, Utah is eight miles away and has very limited services. In addition, when researchers are working on campus, there is little interaction with them or other people so the job at times can be lonely and isolating. It is important that applicants understand this kind of lifestyle and know that it is a good fit for them before applying. Work is 24/7 for the time you are onsite.
In addition, the work itself can at times be physically and mentally demanding, and staff frequently have to handle things alone.  Proactivity in work habits is mandatory. In addition, the job requires wearing multiple hats on a daily basis, so flexibility and a positive attitude are a must.
Successful applicants preferably will have the following skills and experiences:
Passion for the goal of getting humans to Mars and for space in general
A college degree, preferably in science, engineering or education
Ability and commitment to uphold established protocols while managing the station
Experience in remote field work.  While most research done at MDRS is Mars or space related, we welcome applications from people who have experience living and working in remote areas
Experience teaching or training groups for specific tasks or disciplines
A solid foundation in the maintenance of facilities, and the ability or willingness to learn to do to a variety of handyman type things
Have or willing to be certified in First Aid, Wilderness First Responder and CPR
Previous analog astronaut, greenhouse, or off-the-grid living experience a plus
While this is not a job for the faint of heart, it is a very rewarding job. Housing and utilities are provided on campus, as is a truly magnificent sky at night.
To apply, please send the following documents to MDRSdocs@marssociety.org:
A letter of interest detailing the skills you have to contribute to this position, expected salary, time commitment (3 month, 6 months or varied) desired, and starting date.
Current CV and/or resume. Include the names and contact information of three people who can speak to your ability and experience to do this work.