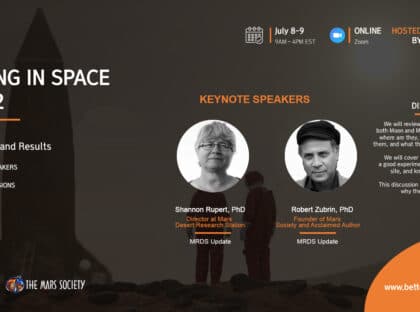 Join us this Friday & Saturday (July 8-9) for 'Living in Space 2022', a fascinating series of talks about analog research and development involving the Mars Society's Mars Desert Research Station (MDRS) in southern Utah.
Hosted by Better Futures, in coordination with the Mars Society, the two-day virtual event will involve over a dozen speakers discussing various topics related to humanity living in space, including on the planet Mars.
Among the many speakers participating are: Mars Society President Dr. Robert Zubrin, MDRS Director Dr. Shannon Rupert, Mars Society Executive Director James Burk, Anastasia Stepanova, researcher & veteran analog astronaut, and Terry Trevino, Co-Founder, Space 4 All.
Use the code "15OFF" in order to receive a $15 discount off the $45 ticket price for the online event.
For full details, including how to register online, please visit: https://lnkd.in/gQnKZhHY.