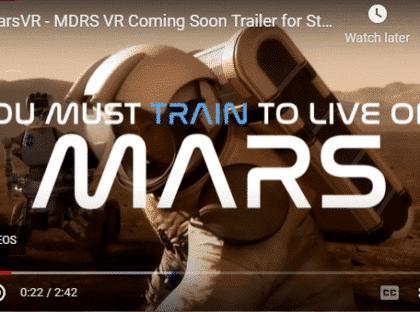 The Mars Society's MarsVR team has released a "Coming Soon" trailer for its MDRS Virtual Reality environment, to be hosted on Steam in the near future.

The goal of the MDRS VR project is to create a special training environment for MDRS (Mars Desert Research Station) crew members and the general public in order to learn more about Mars analog science, technology, and procedures.

The MarsVR team has been working since 2018 on a digital twin of the real-life MDRS facility located in southern Utah.

Using the latest virtual reality technologies and techniques, the team is working to design a fully-fidelity simulation of the MDRS campus, including the station's exterior and interior spaces and key training scenarios that crew members learn to conduct a Mars analog simulation in real life.

As the world's largest and longest-running analog program, MDRS has been in operation since 2001, with 235 crews and over 1,500 individual crew members having stayed at the facility during the two decades since its establishment.

For more details about MarsVR, visit: MarsVR.com, and for additional information about the Mars Society's MDRS analog program, go to: MDRS.MarsSociety.org.