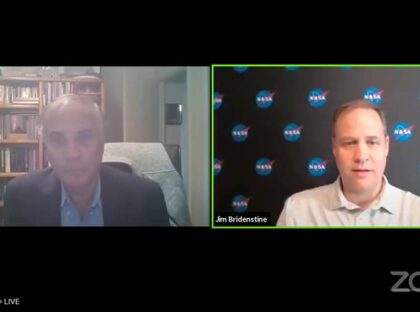 The Mars Society invites potential sponsors to support the 24th Annual International Mars Society Convention, scheduled to be held virtually October 14-17, 2021.
Last year's online Mars Society convention was a record-breaking success, with 1 million live stream viewers and over 10,000 attendees. 150 speakers gave presentations and also participated in panel discussions and public debates.
The four-day virtual event will feature a variety of key experts in the fields of government, business, academia, military, media, and philanthropy who will make presentations on all aspects of Mars and cutting-edge topics in space exploration, science, and technology.
Sponsors will have multiple opportunities to connect with the attendees using the convention's virtual platform, including person-to-person video chat, text messages, sponsored posts, and even sponsored sessions during the event.
There are also a variety of placements inside the convention application, including the virtual exhibition hall where sponsors will have a full profile and ability to share literature and videos about their products and services.
Participating speakers will appear once again via Zoom, while attendees will be able to network with speakers as well as each other using a variety of virtual tools including conference application Attendify by Hopin, chat & collaboration tool Slack, and virtual networking & adhoc video tool Wonder.
For complete details about convention sponsorship opportunities, please visit: https://bit.ly/3CEirlf.