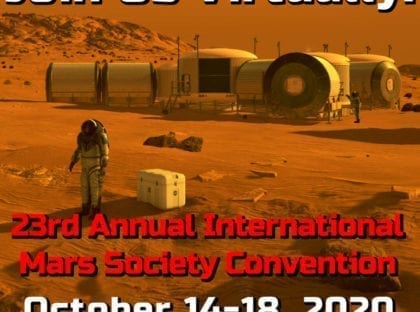 The 23rd Annual International Mars Society Convention, an online virtual event involving some of the world's top leaders and experts on Mars and space exploration, begins tomorrow (Oct. 15th) and runs through Sunday (Oct. 18th).
With 150 speakers and over 5,000 people registered to attend, the four day global conference will bring together key scientists, commercial space executives, government policymakers and space advocates to discuss the latest scientific developments and challenges related to the exploration of Mars and the eventual human settlement of the Red Planet.
Among the many speakers during the convention, NASA Administrator Jim Bridenstine will give a special keynote address about the agency's plans for exploring the Moon and Mars on Saturday, October 17th at 10:00 am PST (1:00 pm EST).
Through the use of innovative new technology (Zoom, Attendify, Slack), it will be possible to not only hold presentations and panel discussions during the convention, but also to allow people from around the world to participate, posing questions and interacting with one another, creating a virtual global conference and networking opportunity of a type never seen before.
Those having trouble navigating Attendify or are unable to connect with Zoom can access the conference's main sessions via live webcast streams on the Mars Society's Facebook and YouTube pages.
Online registration for the Mars Society convention is free of charge, but attendees are kindly asked to consider supporting the organization and its programs by making a $50 contribution.
For more details about the Mars Society conference, including the event program itinerary and how to sign up online, please visit our web site at: https://www.marssociety.org.
We look forward to welcoming you to our virtual event this week!