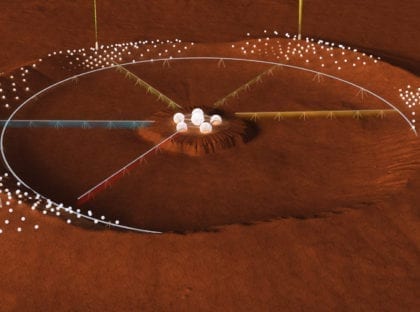 The Mars Society has awarded prizes to the top five winners in this year's inaugural Mars Colony Design Contest, an international competition to design a thousand-person permanent settlement on Mars.
Held during the recent 2019 Mars Society Convention in Los Angeles, the first place prize of $10,000 was awarded to the Star City team from Massachusetts Institute of Technology (MIT), a rendering of which you can see to the right.
"We were blown away by the quality of the one hundred entries we received and were able to expand the winner's pool from the top three entries to the top five," said James Burk, Mars Society IT Director.
Several entries, including these top five, will be included in a special print book that the Mars Society is working to publish by late this year.
Dr. Robert Zubrin, Mars Society President, announced that we will soon be holding a one-million person colony design contest, details of which will be forthcoming.
Here are the top five winners along with renderings of their colony designs, and links to their presentations on YouTube.
First Place Winner ($10,000) – MIT – Star City (USA)