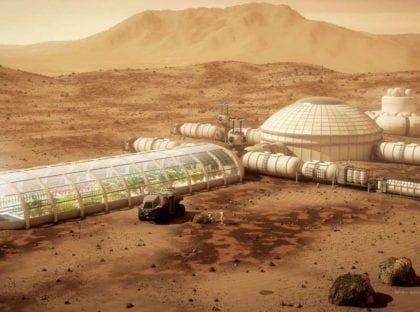 Ten teams, including entrants from the USA, Russia, Poland, France, Switzerland and Sweden, have been selected out of a field of 100 competitors as finalists in the Mars Society's Mars Colony Prize design contest.
Here is the list including links to their presentations on YouTube:
The Mars Colony Prize design contest challenged people from all walks of life anywhere in the world to design a 1000 person Mars Colony, with design criteria including technical merit (40 points), economic viability (30 points) and social, political, and aesthetic considerations (10 points each). Twenty five semi-finalists were chosen out of 100 entrants on the basis of their 20 page design studies as the top 4 to 6 out of five groups of twenty, each evaluated by two judges. The 25 semi-finalists were then evaluated by all 10 judges to narrow the field down to 10 finalists who are invited to present their concepts in person before the judges at the Mars Society Convention at the University of Southern California, October 17-20.
The final shootout will occur before all the judges and conference attendees on the afternoon of Saturday, October 19. Each team will have 20 minutes to present their work and 5 minutes to answer questions from the judges. The winners will then be announced at the conference banquet on the evening of Saturday October 19, with the first prize winner receiving $10,000, the second $5000 and the third $2500.
All the Semi-Finalists and Finalists are invited to have their design papers included in a book, "Mars Colonies: Plans for Settling the Red Planet," to be published by the Mars Society. A list of all the Semifinalists can be found here. Semi-finalists who were not chosen as finalists are also invited to present their concept, or parts of it they consider particularly significant, as papers at a special session at the conference devoted to Mars colonization.
Commenting on the results, Mars Society president Dr. Robert Zubrin said: "I'm enormously impressed by the quality of the design studies submitted. The teams investigated all aspects of Mars colonization, and many found unique new approaches in all sorts of areas. There were so many great proposals that it was painful to be forced to narrow the field. It was terrific to see how the challenge of starting a new branch of human civilization and beginning our future history as a spacefaring species has inspired and mobilized the talent, hopes, and dreams of all kinds of people from all over the world. It really shows how Mars can bring humanity together."