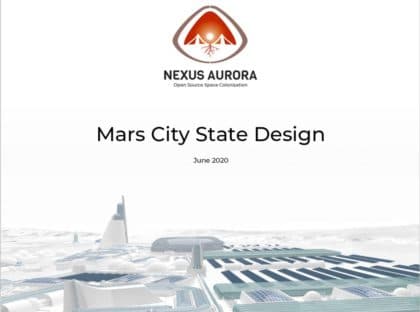 During the recent 2020 International Mars Society Convention, the first, second, third, fourth and fifth place winners of the Mars City State Design Competition were chosen following a highly competitive final round involving ten teams from around the world.
Announced in February by the Mars Society, the contest received a total of 175 team applications from over a dozen countries, requiring several down-select rounds to eventually reach the semi-finals and finals.
The top five winning teams (by name, points and country of origin) are:
1st Place – Nexus Aurora, 1583 points (Multi-National) [Video]
2nd Place – Southern Cross Innovations, 1560 points (Australia)
3rd Place – Navarro Rémy Foundation, 1546 points (France)
4th Place – Phlegra Prime, 1523 points (United States)
5th Place – Korolev Crater SAR, 1520 points (Australia)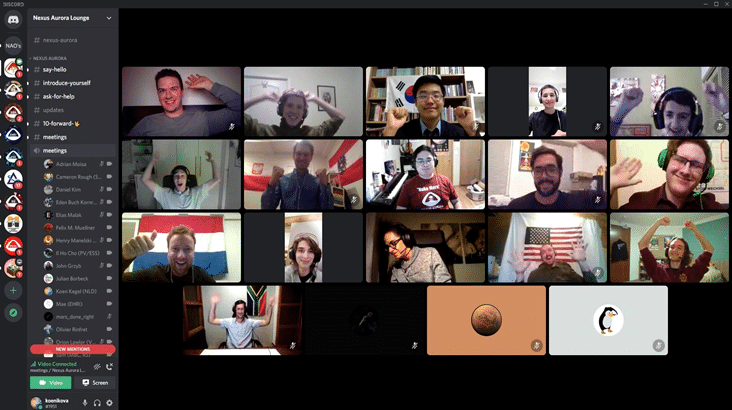 As part of the final round, each team developed a video presentation detailing their proposal to be broadcast online during the convention for a panel of judges to review. These videos were used to supplement their 20-page written proposals and will be posted on the Mars Society's YouTube page in the near future.
The five design team winners received awards in the amount of $10,000, $5,000, $2,500, $1,000 and $500 respectively.
The goal of the contest was to create the best plan for a Mars city state of 1,000,000 people, focusing on making a sizable human urban settlement on the Red Planet as self-supporting as possible and developing the city state's economy, politics, society, culture and so forth.
All teams were required to incorporate as part of their urban planning the production of a wide variety of products, including food, clothing, electricity, consumer goods, machines and vehicles, to name a few, with only a minimum of key components, such as advanced electronics, needing to be imported from Earth.
"Our finalists did a wonderful job presenting the requirements for long-term human settlement of the planet Mars, taking many important factors into consideration. Their detailed efforts will help both the science community and the general public better understand what is needed to establish the first large city on the Red Planet in the not-too-distant future," said Dr. Robert Zubrin, President of the Mars Society.
For those interested in learning more about the results of the Mars City State Design Competition, the top 20 team papers will be published as part of a new book, "Mars City States: New Societies for a New World," due out in 2021.