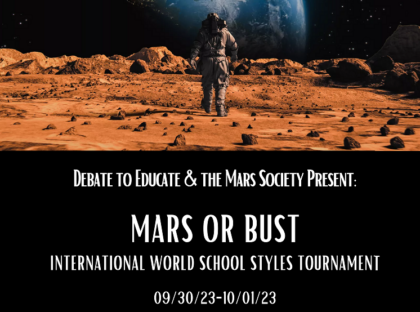 During the 26th Annual International Mars Society Convention, set for October 5-8, 2023 at Arizona State University (Tempe), the Mars Society and Debate to Educate will be convening the final round of a special debate held virtually on the issue of "Mars or Bust?" involving middle school and high school students from around the world.
Debate to Educate, a prominent non-profit group that organizes international educational debates, and the Mars Society have scheduled a series of online debates on whether or not humanity should look to explore and settle the Red Planet, running from Saturday, September 30th through Sunday, October 1st with student participants.
The motions for the debate tournament will be:
This house believes there is life on Mars.
This house believes Mars would be best explored using robots (as opposed to humans).
This house believes the human settlement of Mars should be led by private companies and not by governments.
This house believes the first human mission to Mars should be a no-return mission.
This house believes humans should attempt to terraform Mars.
The initial two-day tournament will be held in English and will practice International Junior World School Styles of debate, with each team involving 3-5 debaters at both the middle school and high school level. Middle school students must have an average age of under 15 years old, while high school participants must have an average age of under 19 years old. All will be required to speak for five minutes in order to avoid time penalties.
Once the weekend series of debates is concluded, those chosen as finalists will be invited to debate the same topics via Zoom during the upcoming 2023 International Mars Society Convention. A panel of judges will determine the order of the teams, with cash prizes of $1,000 (minimum) to be distributed to the top two winning teams in each division.
For full details about the upcoming virtual student debate, including how to register for the event, please click here. Those interested can also send an email to debatetoeducate@gmail.com with any questions you might have about the debate or the application process. For more information about the Mars Society and its international convention, please visit: www.marssociety.org.