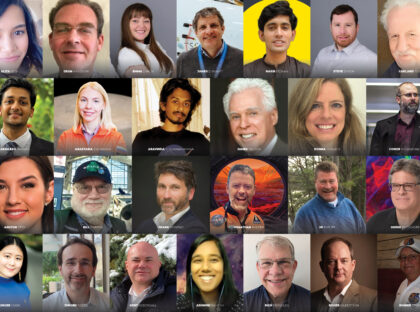 Launched in May 2022, the Mars Society Ambassador program continues to expand its numbers, currently with 35 ambassador volunteers in North America, Europe, Asia, and Australia, participating in a coordinated effort to expand public awareness of the importance of human Mars exploration and the eventual settlement of the red planet.

With dozens of applications being received by the Mars Society since late last year, those accepted as ambassador representatives have been working – in coordination with Mars Society management – to organize public events, both in-person and virtual, at schools, clubs, community centers, organizations, and libraries to promote the goal of humans-to-Mars.

The program is open to anyone with a passion for space exploration and a desire to help spread the word about the potential of human settlement on Mars. Those accepted as ambassadors receive instruction, both in writing and through virtual meetings, on how to communicate Mars Society mission objectives with members of the public and receive the facts, figures, and timelines that will entice people to be curious about humanity's future in space.

Led by program head James Melton, our group of 31 ambassadors, with more expected to be added this year, consist of individuals from a wide range of backgrounds, including education, science, non-profit work, and business, as well as students currently enrolled in higher education and individuals active in retirement. 

"Many people are not aware of the phenomenal, real-world missions now underway to the Moon, Mars, and other solar system destinations. We want our Mars Society Ambassadors to help boost the public's understanding of the current plans for humanity to become a spacefaring civilization," said James Melton, Chief Mars Society Ambassador.

We asked several of our volunteer ambassadors about why they decided to get involve in our program and here are some of their comments: 

"Mars exploration and settlement will be a multi-generational undertaking that will require our brightest scientists and engineers as well as the interest from the general public and governmental decision makers. I became a Mars Society Ambassador to help articulate the Mars Society message, inspire the next generation, and get people excited about the red planet!" – Will Green

"Exploring space and potentially colonizing other planets like Mars is one of the most exciting and important scientific and technological challenges of our time. For those of us who are passionate about science and technology, becoming a Mars Society Ambassador is not only an opportunity to learn more about these fields, but also a chance to make a difference in the world and to grow personally by challenging ourselves to be part of something truly groundbreaking." – Alita Regi 

"We became Mars Ambassadors to help promote and raise awareness for the technologies and skills essential to enable us to explore space and colonise Mars." – Steve Eynon

"Working with the Mars Society as Ambassadors enables us to help people from all backgrounds to realise we can all contribute to a fantastic future in space. We specialise in eLearning courses teaching data science and space tech, which we hope will reach and inspire a wider global audience." – Emma Eynon 

"At a young age, my great-grandfather left the Old World with his family on a one-way journey to the New World. They did not seek treasure, power, or glory, but opportunities for better lives for themselves and their descendants. Today the planet Mars beckons as our next New World. Becoming a Mars Ambassador means sharing the vision of how Martian settlers will innovate, adapt, and find amazing new solutions to humanity's age-old problems – discoveries which will improve us in bold new ways. As Mars Ambassadors we inspire people with the idea of going to Mars, not to escape life on Earth, but to find answers that will help it thrive." – Roger Gilbertson

We extend an invitation to everyone to help the Mars Society in expanding its Ambassador program, and, with it, our continuing efforts to educate and excite the global community about humanity's future in space, starting with the plane Mars. Activate your passion for space exploration – become a Mars Society Ambassador today!