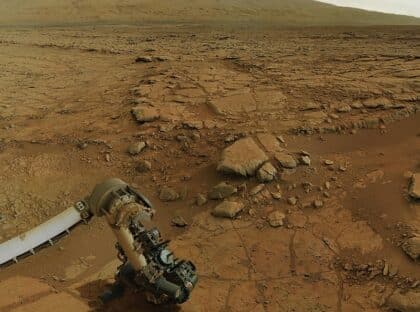 As part of its 25th Annual International Mars Society Convention format, the Mars Society will be holding a special public panel discussion about 'The Search for Life on Mars' on the Arizona State University campus in Tempe on Thursday, Oct. 20th (7:00-9:00 pm MST).
Scheduled to participate in the event are leading experts in the field of Mars exploration, including Dr. Steve Benner, Founder of the Foundation for Applied Molecular Evolution, Dr. Jim Bell, former Planetary Society President & NASA researcher, Dr. Robert Zubrin, President of the Mars Society, and Jan Spacek, a developer of life-detection devices for Firebird Biomolecular Sciences.
The panel discussion is being held in the Arizona Ballroom (221) at the Memorial Union, located at 301 E. Orange Street on the ASU campus in Tempe, Arizona.
All in-person Mars Society attendees are welcome to attend the event, and a portion of tickets will be available to the general public free of charge. Online registration (via Eventbrite) is required so please sign up today. We hope you can join us!