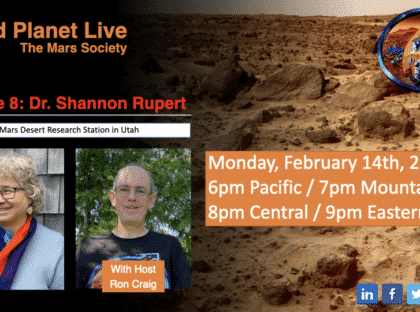 Please join us on Monday, February 14th at 6:00 pm PT / 9:00 pm ET as we welcome Dr. Shannon Rupert to Red Planet Live, the Mars Society's monthly video podcast!
A trained ecologist with more than two decades of experience in Mars analog studies, Dr. Rupert has been the Director of the Mars Desert Research Station since 2009. MDRS is the largest and longest-running Mars surface simulation facility in the world, where 6-7 person crews participate in two-week field missions in the Mars-like terrain of the southern Utah desert, carrying out important research that contributes to the scientific planning for the eventual human exploration of the Red Planet.
Dr. Rupert is an expert in planetary mission simulations and field exploration. Her current research includes desert varnish ecology, biodiversity studies at MDRS, and the development of simulation experiences for educators and their students. She holds a Ph.D. in Biology from the University of New Mexico, a Master's degree in Biological Science from California State University (San Marcos), a Bachelor's degree in Ecology, Behavior & Evolution from the University of California (San Diego), and an Associate's degree in Biology from San Diego Miramar College.
Bring your questions for Dr. Rupert about all things related to MDRS and Mars analog studies, as well as how initial human explorers will live and work on the Red Planet for our next #RPL broadcast on February 14th.
To register via Eventbrite (free of charge), please visit: https://bit.ly/3AUK89g. Thank you.