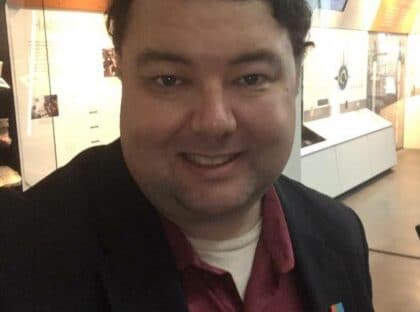 The Mars Society is very pleased to announce that James L. Burk has been appointed as the organization's new full-time Executive Director, supervising the group's world-wide efforts to promote the human exploration and settlement of the planet Mars.
 
In this role, James will oversee the organization's fundraising efforts and high-level networking, lead and coordinate volunteers and chapters, both in the U.S. and around the world, and coordinate any organizational involvement in informing government representatives about humans-to-Mars.
 
Commenting on his new position, James said, "It's a great honor to be chosen to serve as our new Executive Director. In my new role, I'll seek out new opportunities, funding, and ideas; I'll be approachable and responsive to our members and partners; and I'll bring an engineer's rigor to our strategic planning and execution. I'll do everything I possibly can to accelerate the day that human beings are living and working on Mars in a sustainable and responsible way."
 
As one of the founding members of the Mars Society, a member of the organization's Steering Committee and the long-time Director of Information Technology, James has been involved in a wide variety of projects and initiatives on behalf of the organization, including developing and managing the group's internet presence and digital projects like MarsVR and Marspedia. Earlier this year, he led a crowdfunding campaign which raised over $100,000 for virtual reality development, creating a digital twin of our Mars Desert Research Station in Utah.
 
James was a key organizer and lead event technologist of the organization's wildly successful 2020 Virtual Mars Society Convention, which was viewed by over 100,000 people and featured panel discussions with SpaceX CEO Elon Musk, NASA Administrator Jim Bridenstine, and a who's who of Mars scientists and researchers. He repeated his role for the 2021 virtual convention and enabled the Mars Society to add several corporate sponsors for the first time. James has also led the videography at the conventions for over ten years and has worked with volunteers to edit and upload thousands of hours of conference talks to the organization's YouTube channel, thereby creating a massive archive of Mars-related video content.
 
In addition, James has served as Executive Officer for Crew 197 at the MDRS facility in 2018 and will be Crew Commander of Crew 261 in April 2023 with a multi-national team of researchers. He's also served as an organizer of our Seattle chapter since the founding of the Society and has helped other chapters around the world organize themselves and their events.
 
With a background as a software engineer and technical project manager (formerly with Microsoft), James has worked for over 20 years on Agile software development projects, and has led commercial, volunteer, and student teams to conduct a wide range of software development activities including large websites and software solutions that have been used by millions of people. He served in senior roles at Microsoft and other companies, worked as a professional business and technology consultant for over ten years, and has taught computer science and nonprofit management topics and workshops. He holds a Project Management Professional (PMP) certification, and is a Certified Scrum Master (CSM) and Certified Blockchain Expert (CBE). His diverse range of technical and professional skills will continue to be an asset to the Society as he begins his tenure as Executive Director.
 
Please join us in congratulating James Burk on his new role. He can be reached via email, or you can use this form to provide an idea or suggestion to him directly.