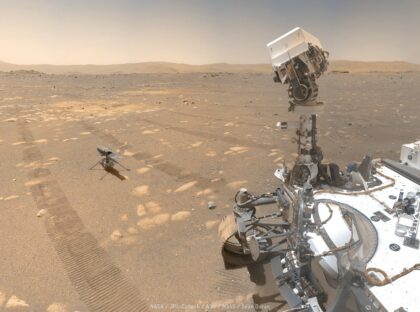 Since its landing in Jezero Crater on the planet Mars in February 2021, NASA's Perseverance rover has been racking up achievement after achievement, including driving 2.6 kilometers over rough Martian terrain, collecting and preparing rock samples for a return mission to Earth, and using the Ingenuity helicopter for aerial exploration.   
To keep the global community up-to-date about Perseverance and its scientific results, the Mars Society has invited four leading NASA-JPL scientists to give virtual plenary talks about the mission, its accomplishments and plans for the future during the 24th Annual International Mars Society Convention, scheduled for October 14-17.
The NASA speakers will include:
Teddy Tzanetos, Operations Lead, NASA-JPL Ingenuity Mars Helicopter Mission – Friday, Oct. 15, 10:30 am PT
Dr. Katie Stack Morgan, Deputy Project Scientist, NASA-JPL Perseverance Rover Mission – Friday, Oct. 15, 11:00 am PT
Dr. Michael Hecht, Principal Investigator, MOXIE Experiment, NASA-JPL Perseverance Rover Mission – Friday, October 15, 11:30 am PT
Dr. Vandi Verma, Chief Engineer, Robotics Operations, NASA-JPL Perseverance Rover Mission – Sunday, October 17, 12:00 pm PT
This year's virtual Mars Society convention will once again be free of charge (although donations are welcomed). For complete details, including how to register online or view the program itinerary, please click here. Please note that the convention scheduling is subject to change. Regular updates will be posted in the coming days on the Mars Society web site and its social media platforms.