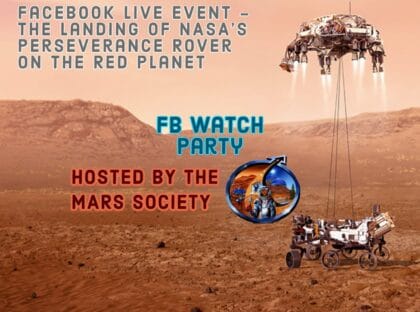 The Mars Society will be hosting a virtual Facebook Watch Party for the upcoming landing of NASA's Perseverance Rover on the surface of the planet Mars.
 
Launched on June 30, 2020, "Percy" is scheduled to set down on February 18th inside the 28-mile-wide (45 kilometers) Jezero Crater, where it will then begin its mission to explore the nearby area in search of signs of past and present life.
 
We invite you to mark the arrival of the latest Mars rover by joining our live Facebook event (Thursday, February 18th – 11:45 am – 1:45 pm PT / 2:45-4:45 pm ET). Visit our Facebook page (https://www.facebook.com/TheMarsSociety) for more details and to join the live stream on the 18th.
 
As with previous Facebook events, an online chat room will operate along side the broadcast, with participants able to ask questions and make comments. Senior members of the Mars Society, including its president, Dr. Robert Zubrin, will be online as well.
 
We look forward to seeing you then, and we wish Percy a successful landing on the Red Planet!