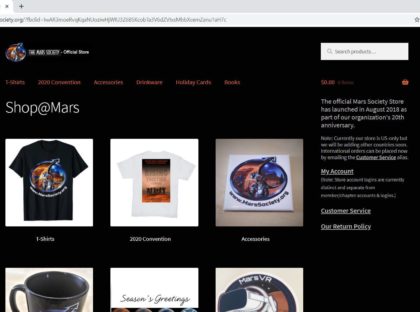 The Mars Society has recently added a number of new items to its Shop@Mars online store (https://store.marssociety.org), including products related to the 2020 International Mars Society Convention, scheduled to be held virtually October 15-18.
A few of the new items currently being offered:
An official convention t-shirt
An official convention sweatshirt
A Mars texture mask (COVID-19)
An official convention mousepad
An official convention poster
The virtual store has six categories of products, including t-shirts, 2020 convention, accessories, drinkware, holiday cards and books, with other items being added on a regular basis. Suggestions are also welcomed.
All proceeds from the online store are being used to expand projects managed by the Mars Society, such as Mars analog research being carried out at our facilities in Utah and Canada, as well as STEM-oriented initiatives and public outreach programs.
Stop by to browse or purchase a few items in the coming days!