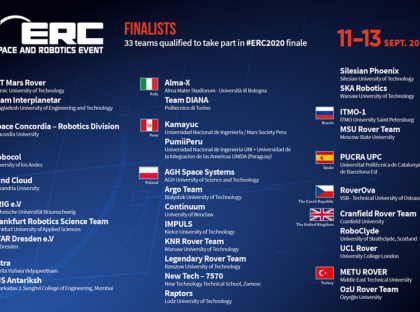 The Covid-19 pandemic has wreaked havoc across all branches of the economy worldwide; leaving some of them profoundly impacted for the foreseeable future. The space industry has not been insulated from the virus either and some Space 4.0 start-ups have declared bankruptcy. The most important events of the space year were at best rescheduled and at worst canceled indefinitely. What brings a little consolation is the fact that the companies whose employees could work from home made that shift quite effortlessly. And that makes sense seeing as remote work and the space sector go hand in hand.
In March 2020, NASA's Curiosity Mars rover mission team photographed themselves on their first day of working remotely from home. It could not have been an easy transition given how quickly it happened. But Curiosity was waiting on the Red Planet ready to be operated so what else could NASA engineers do?
In September, nearly 400 young and ambitious engineers from all around the world will share a very similar experience to the one Curiosity team encountered a few months ago. While staying in their countries they will take part in the grand finale of the sixth edition of ERC (European Rover Challenge), the international Martian rover competition. Between the 11th and 13th of September 2020, the contestants will participate in the competition; remotely navigating the mobile robot on the biggest artificial Martian field in the world, located in Poland. The MarsYard is designed to resemble the Jezero Crater, the exact location of the landing of NASA's Perseverance rover next year.61 teams have submitted their application in the registration process of ERC 2020. Based on the technical documentation they sent, the jury qualified 33 teams from 14 countries to move on to the final stage of the competition. Next month, the teams will compete in two field tasks using an innovative remote-robot management platform delivered by an American start-up from Silicon Valley and mobile inspection robots built by a Polish company. Field tasks will include photographing objects from the MarsYard as well as performing servicing operations at the target machine located on the Martian field.
To read the full article about ERC 2020, please click here.