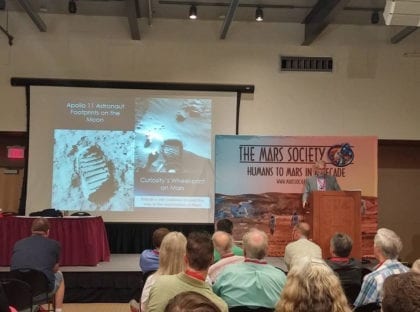 The Mars Society, the world's largest space advocacy group dedicated to the human exploration and settlement of the Red Planet, will be convening its 23rd Annual International Mars Society Convention on October 15-18, 2020 for our global community via the Internet.
Through the use of unique technology provided by the TMRO company of Anaheim, CA, it will be possible to not only hold presentations, panel discussions and debates, but also to allow people from around the world to participate, posing questions and interacting with one another, creating a virtual global convention of a type never seen before.
The Mars Society's four-day international conference will bring together leading scientists, government policymakers, commercial space executives, science journalists and space advocates to discuss the latest scientific and technological developments and challenges related to the human and robotic exploration of Mars and the eventual human settlement of the Red Planet.
Senior Mars scientists confirmed to speak include:
Dr. Sarah Milkovich, Lead Science Systems Engineer, Mars Perseverance, JPL/NASA
Dr. Michael Hecht, Principle Investigator, MOXIE, Mars Perseverance, JPL/NASA
Dr. Abigail Fraeman, Deputy Project Scientist, Mars Curiosity, JPL/NASA
Dr. Mark Panning, Project Scientist & Co-Investigator, Mars InSight, JPL/NASA
Dr. R.A. Yingst, Chair, Mars Exploration Program Analysis Group (MEPAG), & Senior Scientist, Planetary Science Institute
"We're excited to have so many high-level NASA-JPL scientists who are involved in Mars exploration missions scheduled to speak (virtually) at our 2020 conference in October. They'll provide important updates about the work being done on the Red Planet in preparation for the first human mission to Mars," said Michael Stoltz, Director of Media & Public Relations for the Mars Society.
This year's global Mars Society convention will be free of charge (although donations are welcome). For more details, including how to register and sponsorship opportunities, please click here. Updates and a list of confirmed speakers are being posted regularly on the Mars Society web site and its social media platforms.