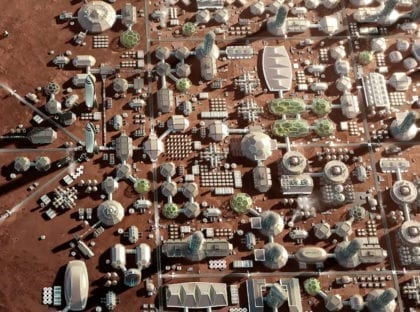 The Mars Society announced in February 2020 the holding of an international contest for the best design plan of a Mars city state of 1,000,000 people. No less than 175 teams have entered the global competition.
There will be a prize of $10,000 for first place, $5,000 for second, $2,500 for third, $1,000 for fourth and $500 for fifth. In addition, the top 21 papers will be published in a new book "Mars City States: New Societies for a New World."
So now Mars needs judges!
In order to narrow the field down to the semifinals, the 175 teams will be dived by lot into seven groups of 25 teams, each of which will be judged by a panel of at least three judges. Each group of judges will select the top three teams from their group. The seven top three teams will then constitute the group of 21 semifinalists, all of whom will be published in the book.
All the judges will then rate the 21 semifinalists, to arrive at a group of 10 finalists who will present before the whole world at the virtual International Mars Society Convention, scheduled for October 15-18, where the winners will be selected.
In scoring city state designs, points will be allocated on the following basis:
30 points technical design: What engineering systems will be used? How will they work?
30 points economic: How can the city state be made economically successful?
20 points social/cultural/political: What should Martian society be like? What kinds of schools, arts, sports and other activities should there be? How, given a fresh start, can life on Mars be made better than life on Earth? How should the city state govern itself?
20 points aesthetic: How can the city state be made an attractive and enjoyable place to live?
So again, now Mars needs judges!
If you are not a contestant and would like to serve as a judge for the contest, please send an email to volunteer your services to judges@marssociety.org. Be sure to provide your name, your affiliation and your qualifications – educational, professional or personal – to be a judge. Thank you!