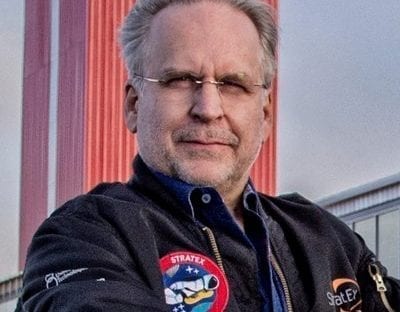 Taber MacCallum, Chairman of the Commercial Spaceflight Federation (CSF) and co-founder and CTO of World View Enterprises, will give a virtual plenary talk during the 23rd Annual International Mars Society Convention, set for October 15-18.
Prior to World View, Mr. MacCallum served as co-founder, CEO and CTO of Paragon Space Development Corporation, a designer and manufacturer of hazardous environment life support equipment. During his tenure at Paragon, Mr. MacCallum served as the CTO and safety officer for Alan Eustace's world record altitude skydive, a project that launched Eustace to 135,899 ft. (41.42 km) under a helium balloon in 2014.
In addition, Mr. MacCallum was a founding member of the Biosphere 2 design team and a crew member from the original 2-year mission inside the materially closed ecological system. He also served as Chief Technology Officer for Inspiration Mars Foundation, which detailed plans for an almost 2-year fly-by mission around Mars with two crew members and published performance data from a complete life support system hardware demonstration, demonstrating recycling of wastewater and oxygen.
Most recently, Mr. MacCallum serves as Founder and Co-CEO of Space Perspective, a human spaceflight company taking people and research payloads to the edge of space. Its Spaceship Neptune, a high-performance balloon and pressurized capsule will launch from the iconic Shuttle Landing Facility at NASA's Kennedy Space Center.
This year's global Mars Society conference will be free of charge (although donations are welcome). For full registration details, please click here. Regular updates, including a list of confirmed speakers, will be posted in the coming weeks on the Mars Society web site and its social media platforms.