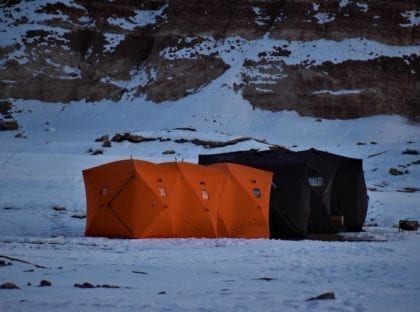 The Mars Society's MDRS – Mars Desert Research Station, the world's largest and longest-running Mars analog program, welcomed a special Mars Academy USA (MAU) crew to its campus last week to begin an historic dual habitat simulation lasting two weeks.
During this mission, one crew is operating at MDRS, while a second crew works out of the MAU habitat, which consists of a series of interlocking geometric tents that house crew quarters and a research area. The crew is made up of medical professionals who are testing how two teams on the same planet would collaborate on emergency medical procedures.
Located in southern Utah, MDRS serves as a home base for crews participating in Mars surface simulation testing and training. Depending on the individual crew's specialization, its scientific focus ranges from geology to engineering, communications to human factors, robotics to microbiology. A wide variety of scientific and engineering research and educational outreach are typically conducted by crews at MDRS.
The newly-arrived MAU participants (designated as Crew 220) have set up their temporary second habitat close to MDRS, with part of the crew staying at the MDRS facility, while an additional crew is housed in the MAU-developed habitat out of sight of the main station. Halfway through the mission, the crews will rotate stations, thereby allowing each team an opportunity to experience both operational habitats.
This mission in the Utah desert, proposed by Dr. Susan Jewell, Founder of MAU, and supported in part by the Mars Society, is the first station-to-station simulation at a Mars analog and will simulate how human explorers at different locations on the Red Planet communicate and interact.
The full crew includes:
– Dr. Shawna Pandya, MD
– Matt Wise
– Alyx Skywalker
– Mithila Marufa Bhuiyan
– Lee Thomas Roberts
– Morgan Kainu
– Dr. Susan Ip-Jewell, MD
– John Hanacek
– Dr. Johannes Svensøy, MD
– Dr. Connie Delisle, PhD
– Jasleen Josan
– Matteo Borri
"We are excited and supportive of MAU's continued "out of the box" thinking in exploring how we will practice medicine as a space-faring people. This work should open up new ideas about how we will operate with more than a single isolated station on another planet," said Dr. Shannon Rupert, MDRS Director.
For regular updates about the joint MDRS-MAU simulation, please visit: http://mdrs.marssociety.org.