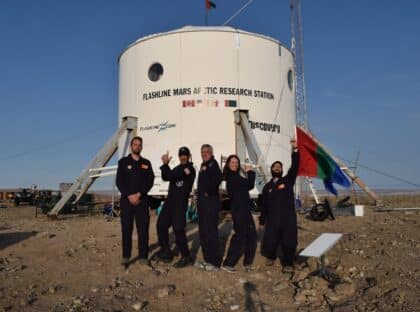 The next episode of our Red Planet Live (RPL) video podcast hosted by Ashton Zeth will include a panel discussion with members of the Mars Society's Crew 15, which visited the FMARS – Flashline Mars Arctic Research Station on Devon Island in northern Canada this summer.
Join us for the live 60-minute RPL broadcast on Tuesday, November 21st (5pm PT / 8pm ET).
The FMARS 15 crew included:
Andrew Wheeler, Commander
Terry Trevino, Executive Office & Crew Scientist
Olivia Drayson, Mission Lead & Crew Scientist
Andy Greco, Crew Engineer
Caleb Pool, Crew Engineer, and Health & Safety Officer
Take advantage of this opportunity to ask this multi-national team (U.S., U.K. and Australia) questions about their time spent at one of the most remote Mars analog stations in the world, just 900 miles from the North Pole.
To register (free of charge) for the monthly RPL podcast, please click here.
Red Planet Live is a monthly live podcast from The Mars Society — Ashton Zeth interviews the people instrumental in exploring and settling Mars. The show will focus on a wide variety of topics, including Mars and space exploration, STEM education, technology, women in science, and much more, with exciting and open discussions involving experts in these respective fields.