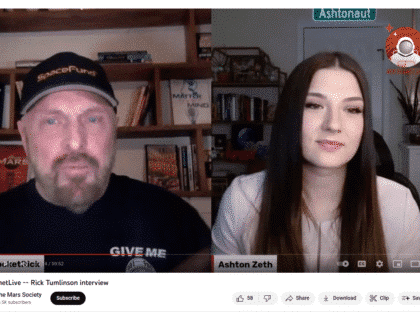 We had an interesting and entertaining discussion with space visionary & entrepreneur Rick Tumlinson last night (Tuesday, February 21st) on our monthly Red Planet Live video podcast, hosted by Ashton Zeth.
Both a rebel and a respected leader, Mr. Tumlinson is listed as one of the top 100 influential people in the space field, serving as a Partner in SpaceFund and Founder of the Earthlight Foundation. He coined the term "NewSpace" and is credited with helping create the new commercial space industry highlighted by Elon Musk and Jeff Bezos.
A lot of ground was covered during the 60-minute RPL interview, including plans for human exploration of the high frontier, the role of private astronauts, challenges facing the commercial space industry, what should be done with the ISS, the expanding U.S.-Chinese space race and much more.
Watch RPL's latest episode and provide any feedback you have to mstoltz@marssociety.org.