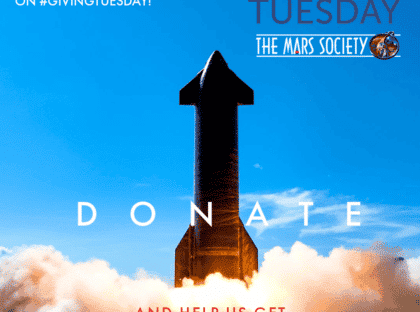 Today is Giving Tuesday, an international day of charitable gifting occurring on the Tuesday after the U.S. Thanksgiving holiday (November 29th).
As the world's largest and most influential space advocacy group dedicated to humans-to-Mars, the Mars Society continues to lead the way in educating the public, the media, and government representatives on the benefits of exploring the Red Planet and creating a permanent human presence there.
We invite you to watch a special video message from our executive director James Burk outlining what the Mars Society has done recently and plans to do in the coming year and why we need your support in order to accomplish these goals. Click here to watch.
Please consider a one-time or recurring gift to the Mars Society on Giving Tuesday by visiting our web site.
Thank you for your support of and involvement in the Mars Society!