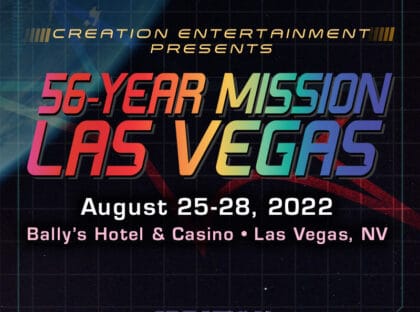 The Mars Society is pleased to announce that the organization has accepted an invitation from The 56-Year Mission Las Vegas (previously Star Trek Las Vegas) to participate in this year's event, scheduled for August 25-28 at Bally's Hotel & Casino.
Organized and managed by Creation Entertainment, the Las Vegas-based annual Star Trek convention will include a line-up of approximately 100 actors, such as William Shatner ("Captain Kirk"), involved in the historic science fiction television and film series.
Supervised by Mars Society staff and volunteers, the organization will manage its own vendor booth during the four-day conference, which will include Mars Society brochures, program info sheets and organizational swag, as well as Mars-related displays and interactive presentations.
By participating in The 56-Year Mission, the Mars Society is seeking to educate and excite a wider public audience about the importance of long-term human Mars exploration and settlement.
In addition to its planned exhibit, the Mars Society is working in conjunction with program supervisors to arrange several public talks and panel discussions, to coincide with the four-day event, about space exploration, plans for humanity's future on Mars and other space-related subjects.
To learn more about The 56-Year Mission: Las Vegas, including how to register, please click here. Volunteers to help oversee the Mars Society's planned four-day exhibit are also welcomed and can sign up by contacting Michael at mstoltz@marssociety.org.
We hope you'll be able to join us this August in Las Vegas for this fun event, and remember… Live Long & Prosper and On to Mars!