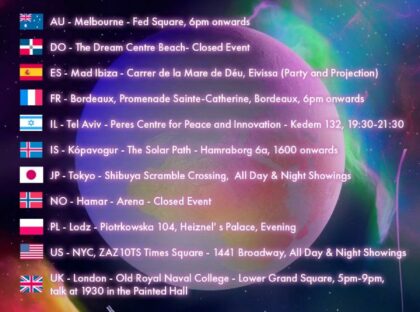 World-wide presentations for The Big Dream space art initiative begin TODAY (2.22.22), with 15 public displays of 500 (+) pieces of artwork based on people's dreams for humanity's future in space, including the planet Mars!

Partnering with Dreame, the Mars Society has called on its global membership and friends to submit their visions for the human settlement of Mars and beyond to The Big Dream project for transformation into inspiring art.

The enclosed graphic lists the locations for all 15 sites around the world where the artwork can now be viewed. At the end of March 2022, as part of the SpaceX Axiom-1 crewed mission into orbit, the art will be displayed again, this time inside the International Space Station (ISS).

"We're glad to have worked with Dreame on this exciting art initiative, with the goal of sharing our members' dreams for humanity off-world and, in particular, on the red planet. Thanks to everyone who took the time to participate in this creative endeavor. We can't wait to see all of the new artwork," said Michael Stoltz, the Mars Society's Director of Media & Public Relations.

To learn more about The Big Dream art initiative, please visit: www.big.drea.me.