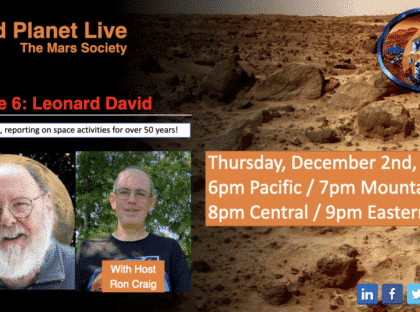 The Mars Society is glad to announce that veteran space journalist & author Leonard David will be joining host Ron Craig on our Red Planet Live (RPL) video podcast on Thursday, December 2nd at 6:00 pm PT / 9:00 pm ET for a wide-ranging talk about Mars exploration, a return to the Moon, the commercial space industry, and other space related topics. 

Currently serving as Space.com's Space Insider columnist, Leonard has been reporting on space activities for over 50 years, publishing articles in Scientific American, SpaceNews Magazine, the Smithsonian's Air & Space Magazine, Foreign Policy, Astronomy, Financial Times, Sky & Telescope, and Aviation Week & Space Technology. 

Leonard has authored numerous books about space, including National Geographic's Moon Rush: The New Space Race and Mars: Our Future on the Red Planet, which is a companion volume to MARS, a NatGeo Channel television series from executive producers Ron Howard and Brian Glazer. He also co-authored, with Apollo 11's Dr. Buzz Aldrin, Mission to Mars: My Vision for Space Exploration. 

Viewers can watch our Red Planet Live video podcast this Thursday via several social media platforms maintained by the Mars Society, including Linkedin, YouTube, Facebook, and Twitter. We also encourage our online audience to ask our visiting guests questions during the live broadcast.