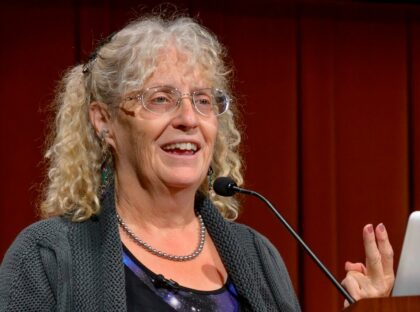 The Mars Society is pleased to announce that Dr. Penelope "Penny" Boston, a senior NASA astrobiologist and geomicrobiologist with extensive experience in extreme environments, will give a virtual plenary talk during the 24th Annual International Mars Society Convention, scheduled for October 14-17. The title of her address will be "Astrobiology by Any Other Name… What Do We Mean by a Search for Something as Undefined as 'Life'?"
Currently, Dr. Boston is involved in science integration broadly across the NASA sciences carried out at the Ames Research Center in California. From 2016-19, she served as the Director of the NASA Astrobiology Institute. During this time, she led NAI in fulfilling its mission to perform, support, and catalyze collaborative interdisciplinary astrobiology research, train the next generation of astrobiologists, provide scientific and technical leadership for astrobiology space mission investigations, and develop new information technology approaches for collaborations among widely distributed investigators.
Prior to joining NASA, Dr. Boston founded and directed the Cave and Karst Studies Program at New Mexico Tech, Socorro, New Mexico beginning in 2002, where she also served as a professor and led their Earth and environmental sciences department as chair. She also served from 2002 to 2016 as associate director of the National Cave and Karst Research Institute, a congressionally mandated institute in Carlsbad, New Mexico. She holds Bachelor of Arts and Master of Science degrees and a Ph.D. from the University of Colorado Boulder.
This year's virtual Mars Society convention will be free of charge (although donations are welcomed). For complete details, including online registration, a list of confirmed speakers, and sponsorship opportunities, please click here. Regular updates will be posted in the coming weeks on the Mars Society web site and its social media platforms.