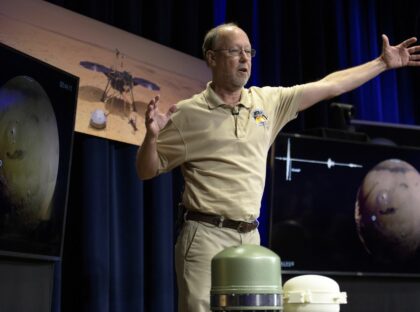 The Mars Society is pleased to announce that Dr. William "Bruce" Banerdt, Principal Investigator for NASA's Mars InSight lander, will give an update about its mission, accomplishments, and status during the 24th Annual International Mars Society Convention, set for October 14-17.
A veteran scientist at Jet Propulsion Laboratory since 1983, Dr. Banerdt supervises InSight's efforts to study the deep interior of the planet Mars, including its crust, mantle, and core. Using state-of-the-art instruments, the lander has also detected over 500 Marsquakes during its nearly three years on the Martian surface.
Dr. Banerdt's research interests include the formation and evolution of Mars, geophysical studies of Mars, the Moon, Venus, Mercury, and moons of the outer planets, deformation of planetary surfaces, planetary interior structure and processes, gravity analyses, and planetary seismology.
During his tenure at JPL, Dr. Banerdt has received numerous awards, including the NASA Outstanding Public Leadership Award, the JPL Magellan Award, the JPL People Leadership Award, and the Editor's Award for Excellence (Journal of Geophysical Research). Dr. Banerdt also has a B.S. in Physics and a Ph.D. in Geological Sciences from the University of Southern California.
This year's virtual Mars Society convention will be free of charge (although donations are welcomed). For complete details, including online registration, a list of confirmed speakers, and sponsorship opportunities, please click here. Regular updates will be posted in the coming weeks on the Mars Society web site and its social media platforms.