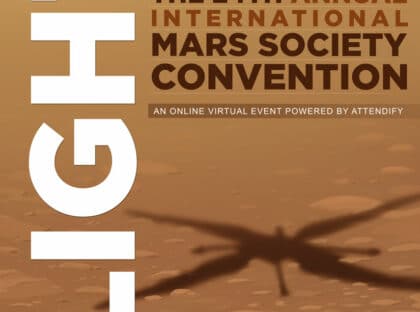 The Mars Society is very pleased to announce that the winner of this year's Mars Society Poster Contest is Olivier Gourdon of France. He is a designer and artist by trade, currently serving as a workshop manager in the graphic industry, and having previously worked in the newspaper and communication agency field. Olivier also was part of a French team in the 2020 Mars City State Design Competition.
Graphic artists who participated in our annual design contest were asked to submit a poster using the theme "Taking Flight" for the 24th Annual International Mars Society Convention, a virtual conference that will run from October 14-17.
Olivier's winning poster will be proudly displayed on the Mars Society's web site and social media platforms as part of our promotional efforts for the upcoming four-day global convention about all things Mars-related.
The Mars Society would also like to extend its congratulations to the contest's second place winner – Maya Soukup, a graduate student studying geology at Memorial University of Newfoundland in Canada. In addition, contest organizers would like to thank all of the other design participants in this year's competition.
For additional information about our 2021 International Mars Society Convention, including registration details and call for papers, please visit our web site (www.marssociety.org).