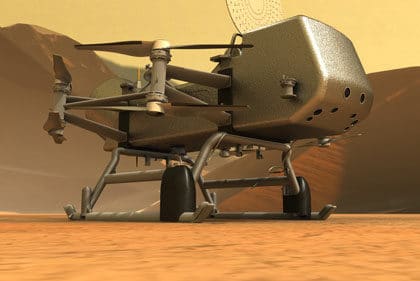 The Mars Society is pleased to announce that Dr. Elizabeth Turtle, Principal Investigator of NASA's Dragonfly rotorcraft-lander mission to Saturn's largest moon Titan, will give a virtual update about the spacecraft during the 24th Annual International Mars Society Convention, set for October 14-17, 2021.

Scheduled for launch in 2026 and arrival in 2034 and taking advantage of Titan's dense atmosphere and low gravity, Dragonfly will explore dozens of locations across the moon's frozen surface, sampling and measuring the composition of its organic materials, with the goal of researching the habitability of Titan's environment and investigating the progression of prebiotic chemistry.

Dr. Turtle is a senior planetary scientist at the John Hopkins Applied Physics Lab (APL), leading a team of scientists, space system engineers, and managers who have considerable experience in exploratory missions across the solar system.

Her main research focus is using remote sensing observations and numerical geophysical models to study geological structures and their implications for the surfaces and interiors of the planets on which they formed.

Prior to joining John Hopkins, Dr. Turtle worked at the University of Arizona's Department of Planetary Sciences and at the Planetary Science Institute in Tucson, Arizona. She earned an undergraduate degree in physics from the Massachusetts Institute of Technology and her Ph.D. in planetary science from the University of Arizona.

This year's virtual Mars Society convention will be free of charge (although donations are welcomed). For full details, including how to register online, please click here. Regular updates, including a list of confirmed speakers, will be posted in the coming weeks on the Mars Society web site and its social media platforms.