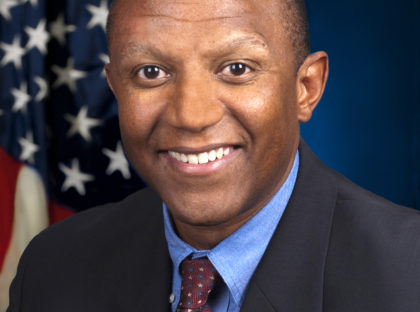 The Mars Society is pleased to announce that Kelvin Manning, Associate Director (Technical) of NASA's John F. Kennedy Space Center, will give a virtual plenary talk about the Center's role in working with NASA and private companies on launches from Florida during the 23rd Annual International Mars Society Convention, scheduled for October 15-18.
In his capacity with NASA, Mr. Manning is responsible for ensuring safe and effective execution of the Center's technical capabilities, including establishing strategies and policies to ensure the Kennedy workforce, facilities and operations are aligned to facilitate Agency program and project goals, propelling the world's premiere multi-user spaceport to advance U.S. leadership in space.
In 1992 Mr. Manning began his career at Kennedy and has served in a number of positions within the former Shuttle Processing Directorate, including flow director for space shuttle Atlantis, chief engineer (acting) for Shuttle Upgrades, vehicle manager for space shuttle Columbia, and NASA test director. Later in the Kennedy Constellation Project Office, Manning was selected as the first division chief for NASA's Orion spacecraft. More recently, he served on the last two NASA Astronaut Candidate Selection Boards.
As an Air Force officer, Mr. Manning served six years as a space operations analyst. Following his military service and prior to joining NASA, he was an engineer with General Electric Aerospace, Military and Data Systems Operations in Springfield, Virginia, and McDonnell Douglas Space Systems Company in Washington, D.C.
He obtained his B.S. degree in Engineering from the U.S. Air Force Academy in Colorado Springs, his M.S. degree in Industrial Engineering from the University of Central Florida (Orlando) and has completed the Senior Executive Fellows Program at the JFK School of Government at Harvard University.
This year's global Mars Society conference will be free of charge (although donations are welcome). For full registration details, please click here. Regular updates, including a list of confirmed speakers, are posted on the Mars Society web site and its social media platforms.