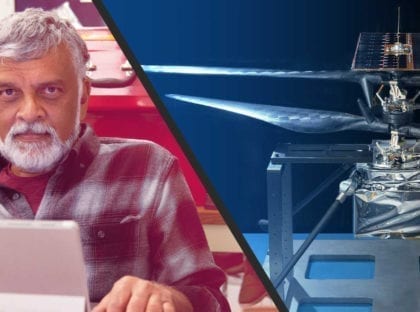 The Mars Society is pleased to welcome Dr. J. Bob Balaram, Chief Engineer for NASA's Mars Ingenuity helicopter, currently en route to the Red Planet as part of the Mars Perseverance rover mission, to the 23rd Annual International Mars Society Convention, scheduled for October 15-18.
A 25-year veteran of Pasadena's Jet Propulsion Laboratory, Dr. Balaram has led the development of the Mars helicopter project, which is intended to demonstrate technologies needed for flying in the Martian atmosphere. If successful, these technologies could enable other advanced robotic flying vehicles that might be included in future robotic and human missions to the Red Planet.
His primary areas of research include: first-of-a-kind systems, planetary aerial vehicles, robotics, physics-based simulation, V&V methods, stochastic methods, probabilistic dynamics, atmospheric entry descent and landing, flight dynamics, combined aero-flight and rover mobility analysis
Dr. Balaram received his B.Tech degree in Mechanical Engineering from the Indian Institute of Technology (Madras) and his M.S. degree and Ph.D. in Computer & Systems Engineering from Rensselaer Polytechnic Institute.
This year's global Mars Society conference will be free of charge (although donations are welcome). For full registration details, please click here. Regular updates, including a list of confirmed speakers, will be posted in the coming weeks on the Mars Society web site and its social media platforms.