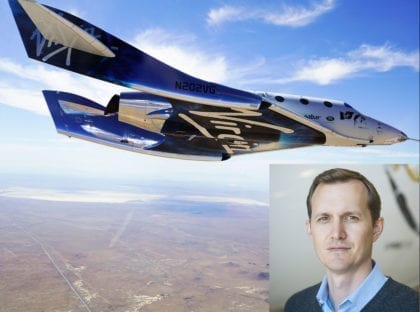 The Mars Society is pleased to announce that George T. Whitesides, newly-appointed Chief Space Officer of Virgin Galactic, will give a virtual plenary talk at the 23rd Annual International Mars Society Convention, scheduled for October 15-18, 2020.
A ten-year veteran of Virgin Galactic, Mr. Whitesides currently spearheads the development of future technologies, including high speed point to point travel and orbital travel. In addition, he serves as the Chair of the Virgin Galactic's Space Advisory Board.
Prior to this, he held the title of Chief Executive Officer of Virgin Galactic and The Spaceship Company, Virgin Galactic's wholly-owned subsidiary and manufacturer of advanced air and space vehicles, for a decade. During this time, he built the company from 30 people to a workforce of over 900 today, successfully guiding Virgin Galactic through its human space flight R&D and flight test program, culminating in two space flights.
Before joining Virgin Galactic, Mr. Whitesides served as Chief of Staff for NASA, where he provided policy and staff support to the agency's Administrator. Prior to this, he worked as Executive Director of the National Space Society (NSS).
This year's global Mars Society convention will be free of charge (although donations are welcome). For more details, including how to register and sponsorship opportunities, please click here. Updates and a list of confirmed speakers are being posted regularly on the Mars Society web site and its social media platforms.