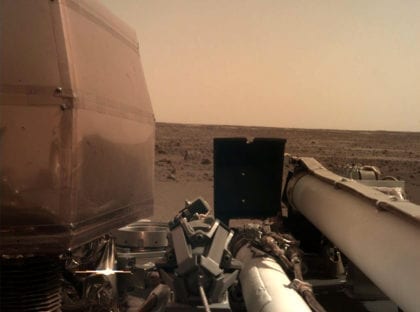 Dr. Mark Panning, Project Scientist and Co-Investigator for NASA's Mars InSight lander, currently operating on the Martian surface, will be joining us virtually to provide a mission update during the 23rd Annual International Mars Society Convention, scheduled for October 15-18.
After spending almost a decade at the University of Florida in the geological sciences division, Dr. Panning joined JPL in 2017 to focus on planetary interiors using seismology. He is also Co-Investigator on the Dragonfly mission to Titan, currently in development. He has also worked on modeling possible seismic signals on Europa, Titan, Enceladus and other icy ocean worlds.
After completing his Ph.D. in Geophysics from the University of California (Berkeley) with a focus on modeling 3D structure of the Earth's mantle using seismic tomography, Dr. Panning stayed on at the school to do post-doctoral research extending seismic approaches to modeling how to use potential seismic data from Europa.
This year's global Mars Society teleconvention will be free of charge (although donations are welcome). For full registration details, please click here. Regular updates, including a list of confirmed speakers, will be posted in the coming weeks on the Mars Society web site and its social media platforms.