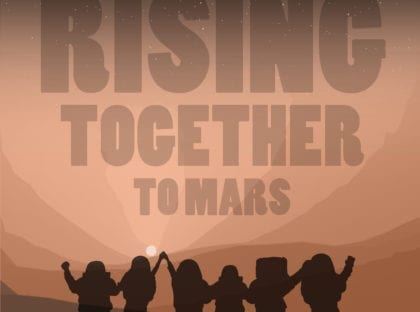 The Mars Society is pleased to announce that the winner of the 2020 Mars Society Poster Contest is Samer El-Sayary of Lebanon. Our winning designer is an assistant professor for the Faculty of Architecture at Beirut Arab University and also serves as an ambassador for Mars City Design.
Graphic artists who competed in the annual contest were asked to submit a poster using the theme "Rising Together" for the 23rd Annual International Mars Society Convention, a virtual conference that will run from October 15-18.
The winning poster will be used to help publicize the organization's four-day global teleconvention and will be incorporated into the event's promotional material.
The Mars Society would also like to extend its congratulations to the second place winner – Tristan Underwood of Maine (U.S.) – as well as the third place recipient – Firmansyah Bachtiar of Indonesia. Contest organizers would also like to thank all of the other creative designers who participated in this year's contest.
For more information about the 2020 International Mars Society Convention, including registration details and call for papers, please visit our web site (www.marssociety.org).