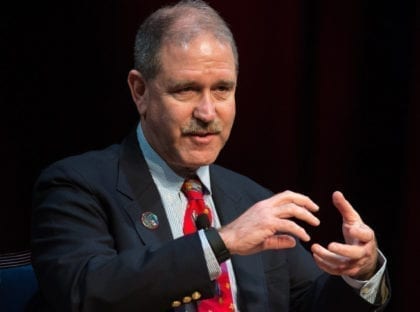 The Mars Society is glad to welcome Dr. John M. Grunsfeld, a former NASA astronaut and Associate Administrator for the Science Mission Directorate, as a virtual plenary speaker during the 23rd Annual International Mars Society Convention, set for October 15-18, 2020.
Serving 17 years as a NASA astronaut, Dr. Grunsfeld is a veteran of five space shuttle flights and visited the Hubble space telescope three times during these missions to near Earth orbit. He logged more than 58 days in space on his shuttle missions and performed eight spacewalks to service and upgrade the observatory.
After retiring from the space agency, Dr. Grunsfeld joined John Hopkins University as a research professor in the Department of Physics and Astronomy. His academic background includes research in high energy astrophysics, cosmic ray physics and the emerging field of exoplanet studies.
He later served as Deputy Director of the Space Telescope Science Institute in Baltimore, managing the science program for the Hubble observatory and planning for the James Webb Space Telescope.
In 2012, Dr. Grunsfeld was named Associate Administrator for the Science Mission Director at NASA headquarters in Washington, D.C., overseeing the agency's portfolio for Space Science, Earth Science, Joint Agency and the James Webb Space Telescope program. He worked in this position for almost five years.
Dr. Grunsfeld received his B.S. degree in physics from the Massachusetts Institute of Technology and subsequently earned a M.S. degree and doctorate degree in physics from the University of Chicago.
This year's global Mars Society teleconvention will be free of charge (although donations are welcome). For full registration details, please click here. Regular updates, including a list of confirmed speakers, will be posted in the coming weeks on the Mars Society web site and its social media platforms.