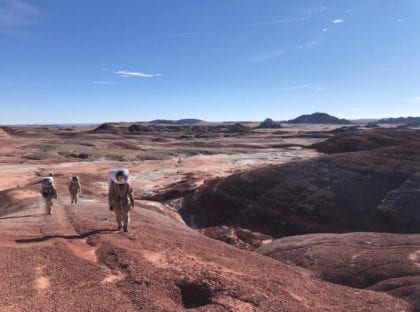 A unique team of educators, designated as Crew 217, completed its one-week crew simulation yesterday at the Mars Society's Utah-based Mars Desert Research Station (MDRS), the largest and longest-running Mars analog facility in the world.
Funded by the Utah NASA Space Grant Consortium, the NASA Spaceward Bound Utah program serves as a workshop for K-12 teachers to conduct field science under astronaut simulation conditions. This inaugural crew consisted of middle school teachers from Utah, Colorado and Connecticut and was led by Dr. Shannon Rupert, the program's principle investigator and MDRS director, and Hope Jennings Zubrin, a master teacher.
The session was designed to give educators insight into how to integrate the real science that future human explorers on Mars will need with classroom-based activities that adhere to current curricula standards and improve student outcomes. "Our focus is on in situ experiences that can be replicated in a classroom and allow students to carry out experiments that will be done on the Red Planet," said Dr. Rupert.
This year's crew focused on a variety of self-defined projects, including:
1. Sharing of Mars and space-related classroom activities,
2. Conducting a biodiversity survey of ephemeral potholes in a Mars analog,
3. Investigating whether or not life exists in a green layer of exposed Morrison strata in the MDRS exploration area,
4. Searching for halophiles in surface gypsum,
5. Exploring ways to communicate with classrooms while "on Mars" at the MDRS facility.
Established in 2007, Spaceward Bound is a special program to train K-12 educators on how to engage their students in activities that will inspire careers in the space sciences by taking teachers into the field with scientists who are working on space-related research at a given location. First instituted by scientists and researchers from NASA Ames, today participants involved in that early project are still holding Spaceward Bound field expeditions all over the world.
"We truly appreciate the Utah NASA Space Grant Consortium for their support of our NASA Spaceward Bound Utah program and look forward to continuing this important initiative at our MDRS campus in the years to come," commented Dr. Rupert.
The Mars Society would also like to acknowledge and thank the teachers who made this year's program such a success:
Ann Rockett, Two Rivers Community School (CO)
Teresa Hislop, Odgen Preparatory Academy (UT)
Cynthia Hori, The McGillis School (UT)
Jen Carver-Hunter, Mountain View Elementary School (UT)
Kevin Berean, Amity Regional Middle School (CT)