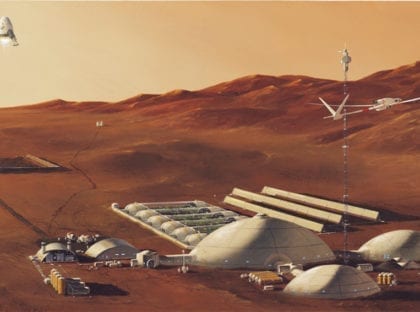 The Mars Society announced the convening of a special panel discussion entitled "Opportunities for Space Entrepreneurs" on Friday, October 18th at 11:30 am during its 22nd Annual International Mars Society Convention in Los Angeles with the goal of helping attendees start their own companies focused on technologies with dual applications for Mars and Earth.
The panel will be introduced by Dr. Alex MacDonald, NASA's new Chief Economist, and facilitated by James Burk, Senior Manager of Artic Consulting and founding member of the Mars Society. Artic Consulting specializes in helping start-up companies create business plans and financial models. A former Microsoft software engineer, Mr. Burk serves as the Mars Society's IT Director, helping for nearly a decade with the organization's web presence and aspects of its social media outreach.
Also present at the panel will be the following distinguished experts:
Sean McClinton is the Founder & President of the Seattle Space Entrepreneurs network and manages operations at RBC Signals, a company specializing in global satellite ground station technologies. Mr. McClinton has worked in both start-ups and Fortune 500 companies like Microsoft and comes to the space industry with a background in sales, marketing and operations.
Lennart Lopin is the founder of the Marscoin Crypto-currency and CEO of ByteFederal a Bitcoin ATM network. Mr. Lopin is an expert on the emerging field of Blockchain and its application with Mars and space. He first announced the Marscoin project at the Mars Society's 2014 convention. His Marscoin project recently donated over one million of its units to the Mars Society in the hopes of eventually funding human Mars settlement and establishing an early Mars economy based on Blockchain.
Dr. Alex MacDonald will be participating in the panel via a video introduction. Until recently, he led NASA's Emerging Economies office focusing on developing private sector space opportunities. Dr. MacDonald is a former commercial space expert at Jet Propulsion Laboratory, a former research faculty member at Carnegie Mellon University, a satellite mission designer and the first research economist at NASA's Ames Research Center.
For more details about the 2019 International Mars Society Convention, including how to register for the four-day conference (October 17-20), please visit: www.marssociety.org.