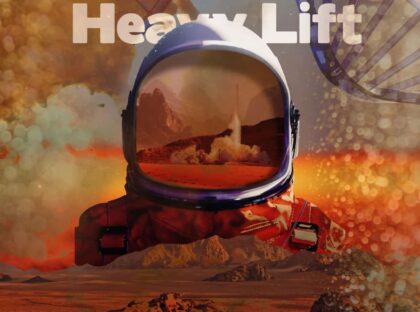 The Mars Society welcomes its membership, students, space enthusiasts, and the general public to participate in this year's challenge by designing and submitting an original poster for consideration. 
The winning design will be used as the primary promotional graphic for the Mars Society's main outreach event of the year – the Annual International Mars Society Convention, which will take place from October 5-8, 2023 at Arizona State University in Tempe.
This year's convention theme, "Mars for All," focuses on the use of state-of-the-art technologies and online programming to help promote the idea of human exploration of the red planet to a global audience.
Examples of such initiatives include the Mars Society's MarsVR program, an open-source virtual reality platform for serious research and training towards Mars missions, and the creation of online experiences by private companies such as Million on Mars and Pyramid Games to help people better understand the expected challenges to be faced by human explorers and settlers on Mars.

Designers must incorporate this overarching theme into their poster layout to qualify for the contest. Don't miss this chance to showcase your creativity and join the quest to reach the red planet!
The deadline for submitting a poster design is Friday, June 23rd, 5:00 pm MST. All artwork submissions should be sent via email to: postercontest@marssociety.org. Please also use this address for any questions related to the contest and/or the submission process.

Technical requirements for the contest are as follows: 1) The poster size should be 11″ x 17″, 2) There are no restrictions with regard to use of color, 3) If your poster is selected, the designer will need to submit a full color poster as well as a gray-scale copy, and 4) Poster designs can be submitted in Photoshop or as a .pdf file (the former is preferred).
The Mars Society will announce the winning poster design during the week of July 3rd. Thank you for getting involved in the poster contest, and good luck to everyone who submits a design!
Use of Image: Artist gives permission to The Mars Society to use digital images(s) of art work in online and print media. Poster Contest Disclaimer: The Poster Contest Artist, by submitting an application, agrees to defend, indemnify and hold harmless The Mars Society from and against any and all claims, demands or expenses (including attorney's fees) for libel, slander, invasion of privacy, infringement of copyright, personal injury, damages, or any other claims, demand or expenses resulting from performance in connection with this agreement.