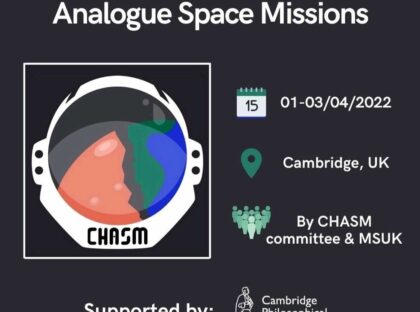 Save the Date(s)!
Mars Society UK, an international chapter of the Mars Society, is proud to present the Conference on Human Analogue Space Missions (CHASM), taking place at the University of Cambridge, UK on April 1-3, 2022.
Analogue space mission crews from around the world are invited to present their missions, goals, and meet fellow international analogue crews.
The aim of this recurring conference is to develop the analogue astronautics community, foster international relationships, and boost productivity of individual missions through knowledge sharing.
For more details, visit the Mars Society UK web site at: https://bit.ly/3BrbBxE or email: chasm@marssocietyuk.org.